The Daily Record has performed a quick 'toning down' exercise on their coverage of the issues involving Leigh Griffiths that Brendan Rodgers discussed.
While every other publisher stuck to the form of words used by the Celtic boss the Record decided to take things a few steps further in their initial coverage of the story.
After patting themselves on the back for gathering in page views the sensitivity of the issue dawned on someone at the Glasgow based publisher.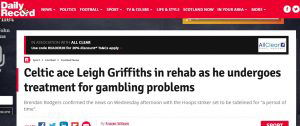 At 15.21 the coverage was changed bringing the Record in line with coverage elsewhere on the story.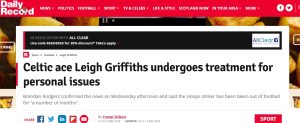 Griffiths has been in and out of the Celtic side all season with his appearance last week at Motherwell his first start since October 7.
After missing a penalty he was substituted by Odsonne Edouard midway through the second half and featured only briefly in Saturday's 5-1 win over Kilmarnock.
Rodgers didn't give any explanation or timeline for the likely return of the striker who earlier this season scored his 100th goal for Celtic.