Leigh Griffiths has sent a not so subtle message to those enjoying his current problems.
Last Wednesday Brendan Rodgers announced that the striker would be taking a break from football to deal with personal issues.
That announcement was greeted with glee and songs from Vienna to Edinburgh as the lowest of the low demonstrated why they are known as Scotland's Shame.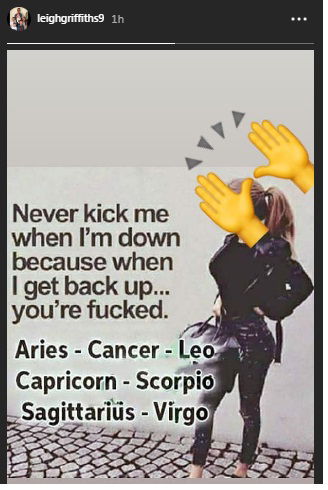 Turning to Instagram Griffiths published a picture with the message 'Never kick me when I'm down because when I get back up you're f***ed'.
Griffiths is without doubt a product of the streets with a rough and tumble attitude to life exactly the same as his approach to football.
The last 12 months have seen him drift to being on the fringes of the Celtic team with a series of muscle related injuries restricting his involvement.
He did score his 100th Celtic goal in the Europa League qualifier against Suduva but there is no word on when he is likely to return to training.
CLICK HERE for Griffiths Instagram message