Peter Lawwell has turned to Neil Lennon to defend his position despite overseeing Celtic failing to reach the group phase, or Play Off for the Champions League for the second season running.
Since losing to Cluj a large number of fans have been highly critical of the club who are sitting on a £13m transfer surplus this summer to add to the £38m recorded as being in the bank account at the end of December. In February Leicester City paid £9m compensation for Brendan Rodgers.
Criticism has been split between Lennon and Lawwell with the Celtic boss facing the media after the defeat from Cluj, before and after Saturday's win over Dunfermline and yesterday to look ahead to the match with AIK.
Lawwell has a club website, TV channel and various club social media outlets to communicate with 53,000 season ticket holders and many more fans but yesterday it was Lennon who spoke up for the Chief Executive who picked up a £2.3m bonus last season.
"The abuse Peter Lawwell gets is very unfair, I think it's totally imbalanced," Lennon told The Sun. "He's presided over eight league titles in a row and three Trebles, and we've been in the last 16 in the Champions League a few times. It's probably as good a time as Celtic has had for a very long time."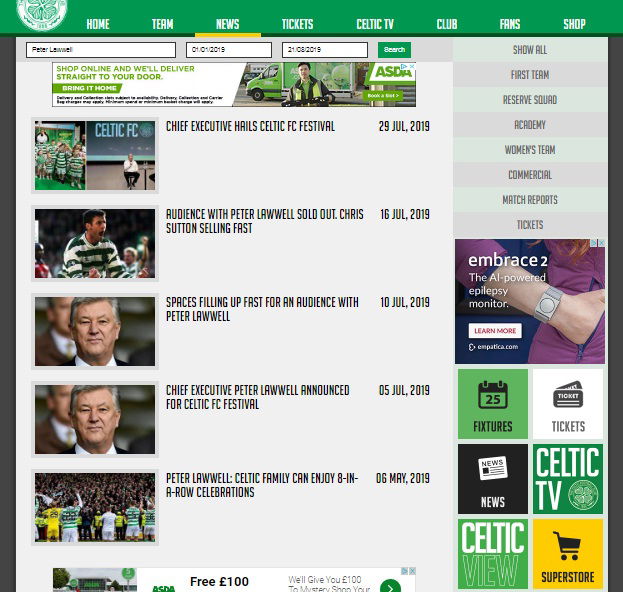 In his own words Lawwell expects Celtic to qualify for the group stage of the Champions League three times in five years. Defeat from Cluj made it two appearances in six years with Lennon, Brendan Rodgers and Ronny Deila contributing to that record.
With a turnover three times greater than their nearest domestic rival winning eight successive titles could be viewed as the natural consequences of such dominance.
In the year ended 2018 Celtic had a turnover of £101.6m, third placed Kilmarnock reported turnover of £5.1m.
During Lawwell's time as Chief Executive Celtic lost the SPL title in 2009, 2010 and 2011, it seems that no-one at the club was aware from discussions with agents that their domestic rivals were offering players 'tax free' off-shore trusts that weren't reported to the SFA and SPL.
So far this year Lawwell has given an unexpected car park interview to Sky Sports on the day Rodgers left, an even more unexpected media conference at Hampden following the Scottish Cup Final and a formal introduction with Neil Lennon as manager.
Last month he took part in an interview with Gerry McCulloch during the Celtic Festival, no coverage has ever been shared with supporters.
During the summer of 2018 Lawwell did take part in a PODCAST with Celtic Underground, since then he has seemed very reluctant to share his thoughts with Celtic supporters.
CLICK HERE and go to page 12 for Kilmarnock's 2018 accounts.