Rod Petrie is planning to bring fixture chaos to the SPFL at a critical stage of the season.
The former Hibs chief refused to speak to the media when he was voted in as President of the SFA at the end of last season but has found his voice after five months in the job.
A year ago it was known that Scotland would be playing in a European Championship play-off on March 26 (Thursday), if successful there will be a final play off five days later with no SPFL Premiership fixtures scheduled for the weekend of March 28/29, a weekend set aside for international matches.
The SFA has arranged the semi-finals of the Scottish Cup for April 11/12 with the first post-split SPFL fixtures scheduled for the weekend of April 18.
Celtic's rescheduled visit to Tynecastle to December 18 has created a run of three matches in seven days with Neil Lennon's side playing nine matches, seven in the SPFL Premiership within 28 days in December.
With the prospect of Scottish Cup replays and European ties eating up more dates there seems to be little room to cancel a full weekend of matches but Petrie told The Sun that he is ready to ask for the fixtures on March 21, when Celtic host St Johnstone, to be wiped out to assist the Scotland international squad for a match FIVE days later.
Asked about getting the SPFL to postpone a weekend of fixtures Petrie told The Sun: "There is a right time to ask any question. You shouldn't ask it too early, you shouldn't ask it too late.
"We are not at that time yet for March 2020. Broadcasters haven't made their picks for that part of the campaign but once we finish this campaign, we will take a look at the play-offs."
Should the SPFL programme be cancelled on March 21 for President Petrie?
Yes, Scotland is more important that SPFL fixtures
No, Petrie's team has plenty time to prepare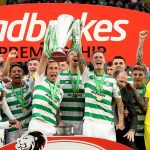 If they SPFL can force James Forrest, Callum McGregor, Ryan Christie and Greg Taylor to play Hibs, Hearts and Aberdeen on December 15, 18 and 21 it shouldn't be a problem getting the same players to turn out for Celtic on March 21 followed by Scotland duty on March 26 and 31.
Should Petrie get his way there will be one weekend of SPFL fixtures between March 14 and April 18.