Opportunities ARE running out for Leigh Griffiths regardless of Neil Lennon's comments ahead of tonight's Europa League tie in Cluj.
Celtic have been very understanding and supportive of the striker but in a professional sport there is little room for sentiment. Griffiths and Lennon both know that.
For the last 12 months Odsonne Edouard has carried the Celtic forward line almost on his own, the former Paris Saint Germain striker turned 21 in January.
It has been quite a burden to carry but with three trophies won this year, a lead in the SPFL and a place in the knock out stage of the Europa League in February secured it's been a successful period.
Repeating that next year is a non-starter. Celtic have ridden their luck with form and injuries but Lennon will know that he must go into 2020 with a ready-made striker. Griffiths knows the tell-tale signs as well.
In an ideal world Griffiths will be the striker that delivers a dozen plus goals in the second half of the season but unless there is a goal-rush in the remainder of this month Lennon has to go big into the transfer market next month. Another project of last-minute loan will be selling the squad short.
Assessing the position with Griffiths, Lennon told the Daily Record:
Leigh's attitude has been excellent. He has been begging for the opportunity so he's got one now. It's not like this is a trial game for him or anything like that. We know what he can do, he just has to go out there and be free in what he does.

In the context of the season it's a big night for him because he hasn't played much football. There's no pressure on him.

We know what a player he is. It's just a question of getting as much game time into his legs as possible and him going out and enjoying himself and working hard to get something out of the game. There's a hunger about him to impress all the time. He's going to get that opportunity.
Griffiths returned to training at the end of March and took a full part in pre-season training, scoring in both of the opening SPFL matches of the season.
Can Leigh Griffiths become a key striker at Celtic again?
Yes, he just needs a break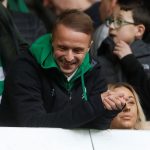 No, he's been off it too long Employers show sympathy and support but sport is a serious business. There are massive stakes at play between now and May, hoping for a repeat of this years' good fortune with Edouard is a risk too much for Celtic and Lennon to consider.
Griffiths knows that Lennon will be eyeing up a January striker, tonight is his best chance to remind his boss that he already has a tried and tested one at the club.