Celtic fans are looking to hear from their £3.5m man as they enter the winter break with the destiny of the SPFL Premiership very much in the balance.
Neil Lennon's side enjoy a two point advantage at the top of the table but with a game more played than their rivals in second place it is all to play for from January 22 when Celtic travel to Kilmarnock.
Over the course of 90 minutes today much of the good work of the first half of the season has been undone. Chickens have come home to roost in a side that has survived the last three months with two central defenders, two central midfielders and one striker.
During the summer both full-back positions were stocked up on while Moi Elyounoussi was added to a list of wingers that includes James Forrest, Mikey Johnston, Scott Sinclair, Lewis Morgan, Jonny Hayes and Marian Shved.
By and large Lennon has managed his resources pretty well. In April he highlighted the priority of signing a striker whether he got the job on a permanent basis or not. Lennon got the job but not the striker the club needed.
He has used Edouard, a 21-year-old, to the best of his ability. Today's cameo appearance from Leigh Griffiths suggests that his early season goals were his last hurrah.
Celtic's performances in the group stage of the Europa League demonstrated how Lennon can deploy his forces, he managed it again in the final of the League Cup but today he went to the same well once too often.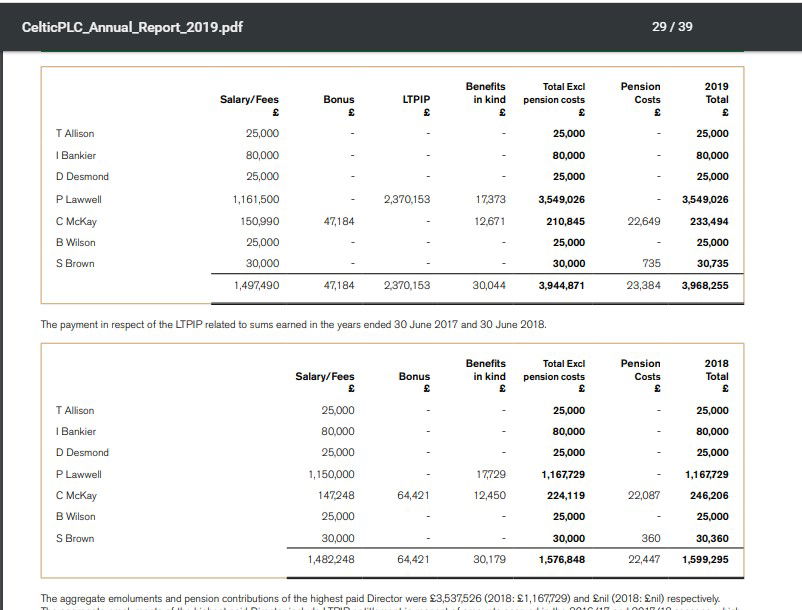 LTPIP is Celtic's bonus scheme
Watching on from the stand was Peter Lawwell. In his 16th year at the club his salary has swollen to £3,549,000 a figure that dwarves everyone else at the club. That figure includes bonus after meeting the criteria set by the club's Remuneration Committee.
As Chief Executive he carries all the responsibility and picks up the rewards, every person of note within the club has been appointed on his watch.
Transfer dealings are becoming very bizarre. After seeing Timo Weah, Oli Burke and Vakoun Bayo joined the club in January Brendan Rodgers was in the dark about the arrival of Marian Shved 'we've got a million wingers' he said when asked about the young Ukranian.
Jeremy Toljan, Andrew Gutman and Manny Perez also signed up in January with no contribution made this season.
During the summer Boli Boligoli was signed before speaking to the Celtic manager.
1 minute 50 seconds: Have you had a chance to speak to the Celtic manager? Not yet.
Over the next five weeks Lennon needs 2-4 first team players– initially to secure this season's SPFL title with an eye also to Champions League qualifiers in July, A backdrop of 6 failures in the last 10 years doesn't augur well.
During 2019 little has been heard from Lawwell, his favoured media outlets and podcasts haven't even been briefed about disco lights. In February he gave a short interview to Sky Sports as Rodgers headed to Leicester. After the Scottish Cup Final success over Hearts he provided an unexpected media announcement at Hampden. Celtic's social media outlets were left in the dark about Lennon's appointment.
Actions speak louder than words, winning this season's title is something that Celtic fans crave. With little corporate governance in Scottish football the next five months could turn into a dog-fight.
On January 18 Celtic play Partick Thistle in the Scottish Cup, four days later they are away to Kilmarnock.
There needs to be a sense of urgency to bringing in 2-4 players. If business is left until the last day of January, looking for leftovers on loan could make it odds against a ninth title with one expensive figure being held responsible by the fans that fund his luxury lifestyle.
CLICK HERE for the 2019 Celtic Report.