When times are tough at Ibrox the best place to go to soak up the banter is Follow Follow.
Over the last 12 hours the popular message board has been in meltdown as fans come to terms with the fact that they are highly unlikely to be celebrating #title55 in May.
It's often said that 'It's the hope that kills them' with optimism sky high among Ibrox fans from the moment Steven Gerrard screamed into the Sky Sports cameras at the end of December.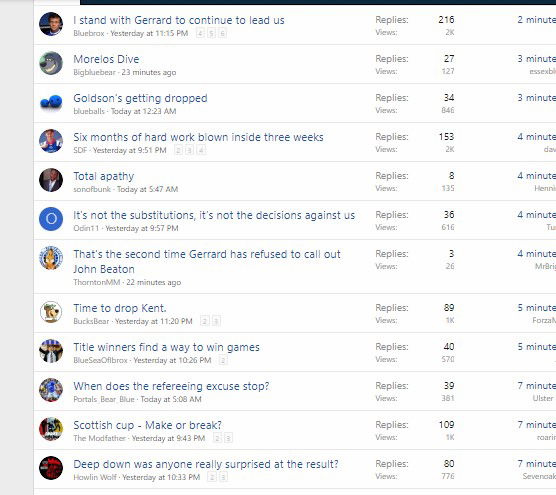 After losing to Hearts Gerrard claimed that his side had carried eight passengers. Super subs Flo Kamberi and Iania Hagi were unable to unlock Aberdeen in a 0-0 draw at home to Aberdeen.
With Celtic scoring for fun last night's 2-1 defeat at Kilmarnock had an eerie feeling of Déjà Vu about it.
Last season went downhill after Jordan Jones found the net against Gerrard's side in January, last night the matchwinner was on the bench watching his new club crash to defeat.
[ad_pod id="rezonence"]
The post mortem promises to be brutal, after 20 months in charge some fans are starting to question whether Mr Gerrard is just a more expensive version of Mark Warburton and Pedro Caixinha.