With six rounds of fixtures to be played before the SPFL split a decision made when the fixtures were drawn up last June is coming back to haunt the organisers.
For 20 years trying to balance out fixtures for the final batch of five matches has been a constant problem with this season shaping up as a bigger problem than normal. Had the 'race' for the title been closer the problem would be multiplied.
To use that popular phrase 'As It Stands' Celtic will reach matchday 33 having played the five other clubs in the top half away from home twice.
Strangely the exact opposite is the case with Steven Gerrard's side, on the road they will only have played the other top six sides away from home once.
Will Celtic get five home matches after the split with no matches at Ibrox? Not a chance. Balancing home and away matches overall is the target rather than in individual head to head games.
While there is an obvious element of risk with the current set up the SPFL could have done more to prevent this scenario from developing.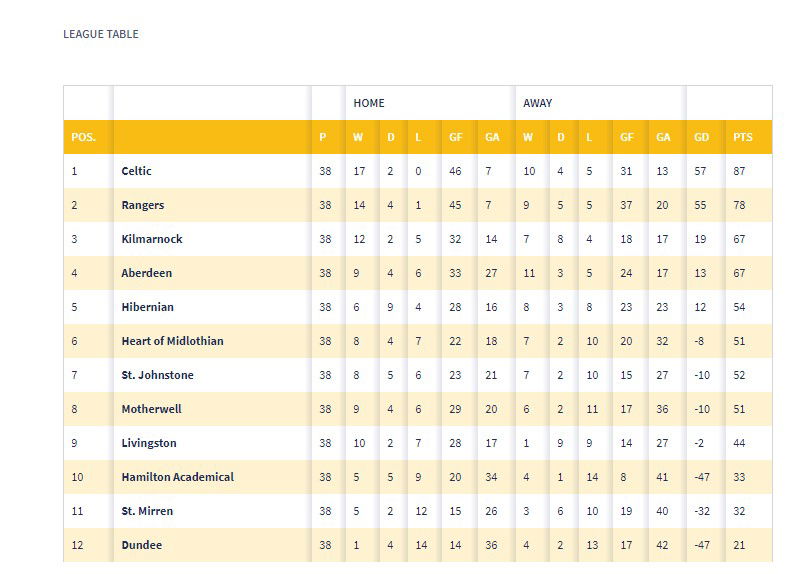 Last season's final table
Quite rightly the fixtures are drawn up assuming that the teams will finish in the same order as they finished the previous season, there is nothing else that they can base their predictions on.
With Celtic playing 16 home matches in the main stretch of the season they are due three more home games after the split.
The problem kicks in with Kilmarnock and Hearts being in the bottom half of the table. Killie might make it into the top half but Hearts are certain to be in the bottom six with just three wins from 27 matches.
When Celtic were being allocated their fixtures it was expected that Hearts, Kilmarnock and a Glasgow derby would balance out their fixtures.
Without looking at any variables it seems strange that the Hearts, who finished last season in sixth place, on less points than seventh placed St Johnstone, were picked to visit Celtic twice.
When Celtic's fixtures were being allocated it would have made much more sense to have Aberdeen or Hibs play twice at Celtic Park, both clubs finished above Hearts making them more likely to retain a top six place.
The folly of that decision is about to hit home- unless St Johnstone and Kilmarnock knock Hibs and Livingston out of the top six.
Celtic will be sent to Motherwell and Livingston for a third time this season with those clubs also visiting Ibrox for a third time if past practise is followed.
By the time this season ends Celtic will have played the other top six clubs eight times at home and 12 times away. Over at Ibrox they will have 12 home matches against the top six and just eight away games.
The home and away matches will tally up to 19 of each but the composition of those games will be very different.
Rather than the 8 v 12 split switching the matches against Hearts and Hibs would have created a 9 v 11 balance since the SPFL can't manage a 10 v 10 arrangement.