Roger Mitchell tries his best to come over as an all in good guy on Twitter, claiming to be a Celtic fan to win more sympathy.
The reality is that he is fast turning into Scottish football's David Icke.
Roger likes to come over as very reflective and someone who puts the greater good before himself but should anyone put some facts his way he doesn't like it one little bit. He will block you.
Yesterday I picked up on his comment that Celtic should relinquish this season's SPFL title. With the bold Roger claiming to be a Celtic fan it showed once again what a good egg he is.
That tweet brought plenty of reaction which is exactly what Rodger was looking for, he'll be crossing his fingers that he has done enough to get a phone call from Radio Scotland this week.
Did you relinquish responsibility when you rubber stamped the contracts for de Boer and Flo, followed by dozens of others so that you could draw a salary on the back of artificial Old Firm rivaly.https://t.co/pzAARKmWko https://t.co/njZqaTGwAD

— Joe McHugh (@videocelts) April 11, 2020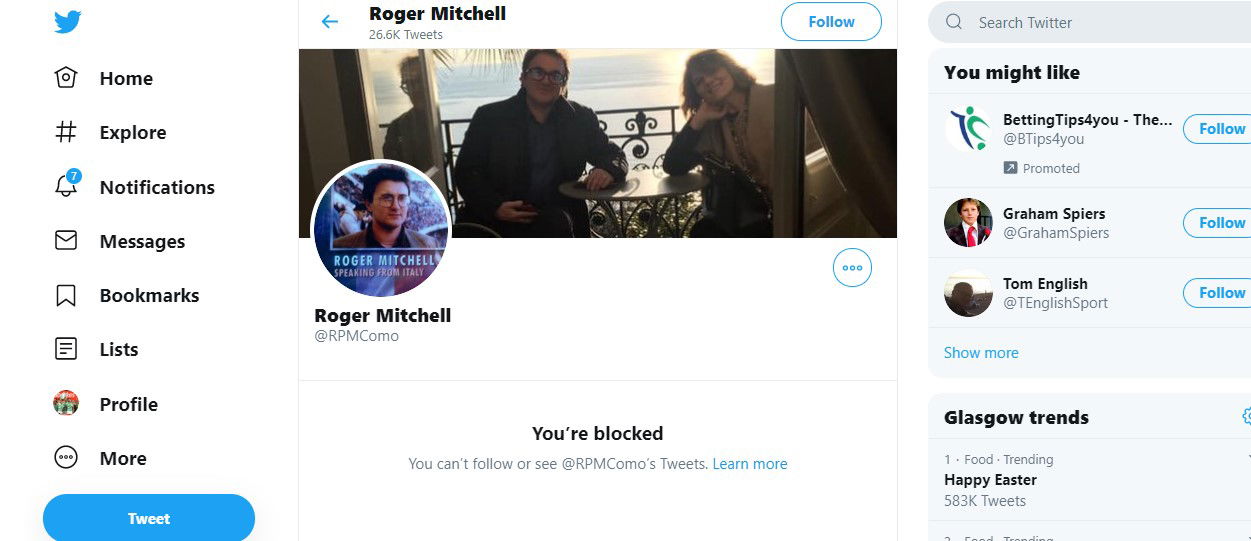 Taking Mitchell's tweet to a larger audience without portraying him as the saviour of Scottish football didn't go down well with the former SPL Chief Executive but it seems that something else has really upset him.
While he was in his comfy executive chair at Hampden the first of the ineligible Rangers contracts started to come into the game, through the office of the SPL where Roger was drawing his six-figure salary. The CEO is where the buck stops.
In the 2000/01 season things got very interesting. Chris Sutton and Tore Andre Flo left Chelsea for Glasgow, one to Celtic and the other to Rangers. When Flo's registered contract came through at half the value of Sutton's Roger did nothing. Not a thing.
While a token contract was registered with the docile SFA and SPL the real reason for Flo swapping the Kings Road for Edmiston Drive was a massive off-shore trust that was allegedly tax free. Later on, alongwith the de Boer deal, Rangers were hit with a £2.8m tax bill that remains unpaid almost 20 years later.
If Roger was as sharp an operator as he likes to portray himself as he could have brought the scam to a halt. The old Rangers would probably still be with us, they might even have discovered a legal way to compete with Celtic.
Flo and de Boer made for decent Box Office. New television contracts and commercial deals were signed with increased profile on the back of the Old Firm, the Chief Executive collected his bonus and congratulated himself on how clever he was.
The deals for Flo and de Boer were followed by dozens more, the trickle became a flood, it all came to a head in 2012 even before the tax scam was exposed as disguised remuneration by the Supreme Court.
Mitchell's finger-prints are all over the last 20 years of Scottish football's downward spiral, as are many others.
If he would like to explain and justify his role in the Ibrox contracts he is welcome to this website. Token contracts went through the books as secondary contracts enticed Flo and de Boer to swap Chelsea and Barcelona for life with Rangers.
Those two players were ineligible in every game that they played. Roger Mitchell was a central player in those cases, bear that in mind when he is sharing his wisdom from the Italian lakes.