Celtic fans have urged their club to go further after publishing an apology from the Herald over the presentation of a story in Saturday's edition.
It seems that Celtic have been given an apology but there is no mention of it on the newspaper website.
Celtic fan Kevin McKenna produced an opinion piece in which he discussed his unease at the club using the Furlough Scheme to pay a large number of non-playing staff.
There were some well raised points, probably shared by a minority of Celtic supporters but it wasn't the opinion that caused Celtic concern.
Late this morning Celtic's website reported:
FOLLOWING the serious misrepresentation of Celtic FC, The Herald newspaper today made the following apology to the Club.

"On our front page promotion for a column on Saturday, we stated 'Celtic cutting non-playing staff's money shows how far football has lost its soul'.

"We are happy to clarify that Celtic have not cut any non-playing staff's money. All staff on the Government's job retention scheme are having their salaries paid in full by Celtic.  We apologise to Celtic for our error."
The apology is simply a matter of record, the employees on the Furlough scheme will have 80% of their wages met by the UK Government with Celtic paying 20% to top them up to usual levels.
Celtic fans have had a long running mistrust of traditional media and their coverage of the club.
Calls for media bans are often raised on social media but in order to keep sponsors and advertisers sweet relationships need to be maintained with traditional forms of media.
Social media however is becoming much more important with sponsors recognising that their product or message can reach much further through intelligent use of social media.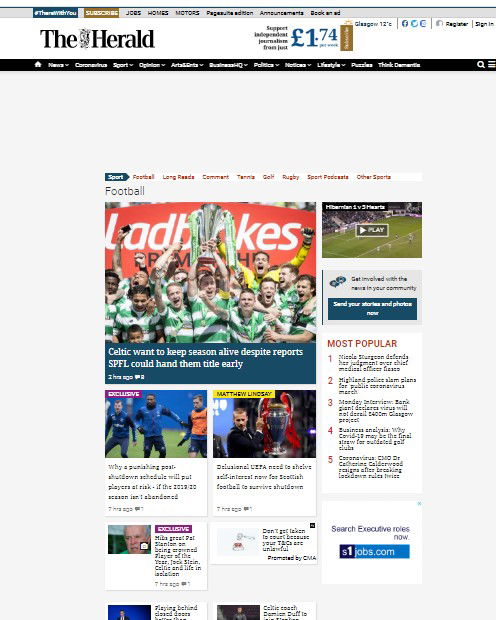 At 12.30 on Monday, almost an hour after Celtic's statement there was no sign of an apology on the football page of The Herald's website.
? The Herald newspaper apologises to Celtic Football Club https://t.co/OJBGQtwtzZ

— Celtic Football Club (from ?) (@CelticFC) April 6, 2020
I hope the apology was also a front page headline?

— ????32???? (@sc32ie) April 6, 2020
Aren't the Herald owned by Newsquest who have furloughed staff ?

— peter keaney (@buglas67) April 6, 2020
but follow it up and ban them… we dont need any mainstream newspapers.. they are a soon be extinct, group of charlatans!

— CBW (@cbtjobwallis) April 6, 2020
Ban them and any sister papers from Celtic Park for good, gutter press.

— Nairny Torpedo Zhodino ?? (@nairny87) April 6, 2020
Have they investigated every Scottish Club the same way they did Celtic or is it smear Celtic at every opportunity.

— Robbie Linden (@RobbieLinden2) April 6, 2020
Sadly, this is the level of journalism in Scotland. Truly awful

— Colm Brown (@BrownColm) April 6, 2020
So I'm hoping their apology will be printed on the first page as well?

— AM (@annemarie6377) April 6, 2020