Ramon Vega wants to see Celtic hand over money to other SPFL clubs to help them survive.
The hoops are the richest club in the country but got into that position by careful planning and resisting the urge to over-spend to achieve success.
That model has been there for other clubs to emulate on their own scale but they have chosen to do things differently. Kilmarnock were happy with the offer made for Greg Taylor, Aberdeen held out for more money than Celtic offered for Scott McKenna, it never arrived.
Hearts and Aberdeen were among the first Scottish clubs to own up to the difficulties that they face if football is suspended for six months or more.
Celtic's financial strength has been largely achieved by selling players and offering affordable wages during normal times.
Aberdeen's financial position would have been much healthier had they accepted bids in the region of £3.5m for McKenna that came in from Celtic and Aston Villa in the summer 2018 transfer window.
Similarly at the start of this season Hearts provided Steven Naismith with a four year contract on a basic wage of £7,500. In January they outbid Aberdeen to pay Liam Boyce £6,000/week to move from Burton Albion.
In contrast Kilmarnock are sitting in a healthy position thanks to the £2m they picked up in September for selling Greg Taylor to Celtic.
Looking at Celtic's finances and casting his eye over Scottish football Vega told The Sun:
There is no better time for them to show some solidarity with the rest of the clubs. We all know there have been huge differences in the past, but the biggest rivalry here is not Celtic or Rangers, It is the pandemic. That is the only enemy for anyone at the moment.

There is plenty time in the future for Celtic and Rangers to rekindle their rivalry. Just now surely it should be all about these two massive clubs getting together and helping the smaller Scottish teams.

It should be about them and the other big teams in the country leading from the front. If they attempt to help everybody I think the other clubs would appreciate it. This is the perfect time to show what they are all about.

The stronger ones will survive, but there is an obligation on them to help. If they can cut back a little and provide assistance then the whole pyramid has a better chance of getting through this period. The smaller clubs are the ones who will struggle the most.
Is Vega right? Should Celtic donate to other SPFL clubs?
Yes, it is the sensible thing to do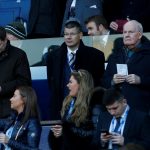 No, clubs have to operate within reason
Despite the events of 2012 there is no Financial Fair Play in Scottish football. While Aberdeen and Hearts count the cost of expensive mistakes in the transfer market Motherwell banked more than £1m in January from the sale of James Scott to Hull City.
Kilmarnock and Motherwell are in safer positions thanks to sensibly working the transfer market, that is the lessons that Hearts, Aberdeen and others should be emulating.