The Sun has highlighted the Vanguard Bears website after they chose to share a tweet making accusations about George Floyd.
Over the last week the murder of Floyd has caused revulsion worldwide with several days of protest across America with the actions spreading worldwide under the strapline Black Lives Matter.
It seems that almost all of the civilised world has been repulsed at the murder of Floyd but not Vanguard Bears who decided to take a very different view to the scenes which have sparked outrage with daily protests at the White House.
Sportsmen across the world have shown their support for Floyd and America's Black population which has been further galvanised by the reactions of Donald Trump. Before being elected as President in 2016 Trump was occasionally linked with investing in the Ibrox club.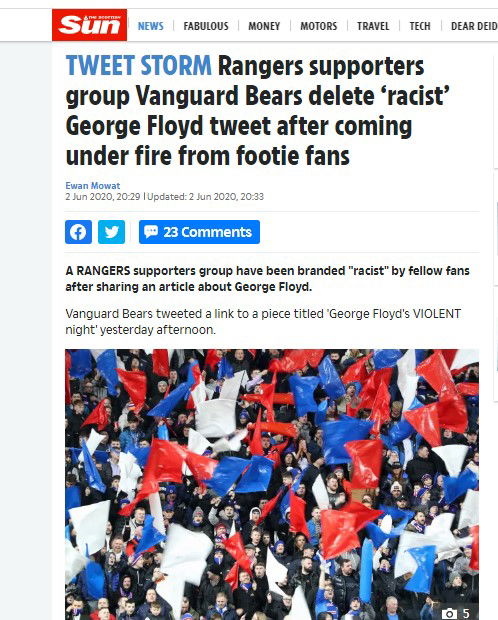 We absolutely refute the allegations of racism made by The Sun newspaper this evening. We do not talk to #scummedia. #JT96

We challenge anyone on Twitter to provide evidence of any Tweet or anything ever produced by VB which is racist.

— Vanguard Bears (@VanguardBears) June 2, 2020
Vanguard Bears opted to delete their offensive tweet after many of their own followers turned on them but the site still has almost 18,000 followers.