Connor Goldson has launched an emotional attack on Ibrox fans after he highlighted their opposition to players taking the knee.
Social media had contained numerous comments critical of Ibrox players taking the knee in support of the Black Lives Matter movement.
The murder of George Floyd in Minneapolis has sparked an international wave of protest with sportsmen and woman highlighting the cause. In England BLACK LIVES MATTER replaced player names on the back of shirts when football came out of Lockdown.
Jermain Defoe voiced his support for the issue but other than posting pictures of the players taking the knee on their Twitter account there has been  no comment from Ibrox.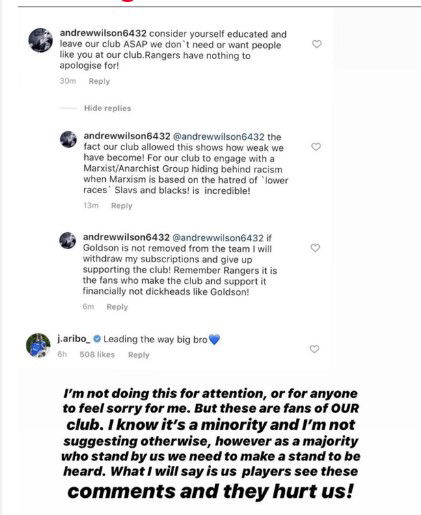 The Daily Record reports:
Goldson posted a screenshot of a reply to his earlier Instagram post, in which a user said the defender should "leave our club ASAP". The comment prompted an emotional reply from the 27-year-old former Brighton centre-back.

He wrote: "I'm not doing this for attention, or for anyone to feel sorry for me. But these are fans of OUR club. I know it's a minority and I'm not suggesting otherwise, however as a majority who stand by us we need to make a stand to be heard. What I will say is players see these comments and they hurt us!"
The big test for the Ibrox club will come on Wednesday when they face Motherwell at home in a friendly match. It will be down to both clubs to decide on whether they take the knee.
Goldson was recently linked with a move to West Ham and has two years left to run on his Ibrox contract.