Boli Bolingoli's mini-break to Spain is clearly the act of a very selfish footballer with unknown motivation for the trip.
In today's Daily Record a Celtic fan gives an account of being on the same flight as the player with a picture that appears to have been taken on the outbound flight from Prestwick.
The player is without doubt the source and cause of the issue but it does lead to questions about what level of control and intelligence Celtic have over their players and employees.
Jock Stein famously had a network of contacts in pubs across the west of Scotland, phone calls would be made to Stein if any of the lions overstepped the mark in an age when players were regulars in pubs and often had a share in them.
Having informal contacts at airports or within the Police force would seem fairly obvious, during a pandemic the club should have some system that raises an alert when a player leaves a Scottish Airport. You'd imagine that someone with access to the flights lists would be a Celtic fan capable of putting in a phone call to the club.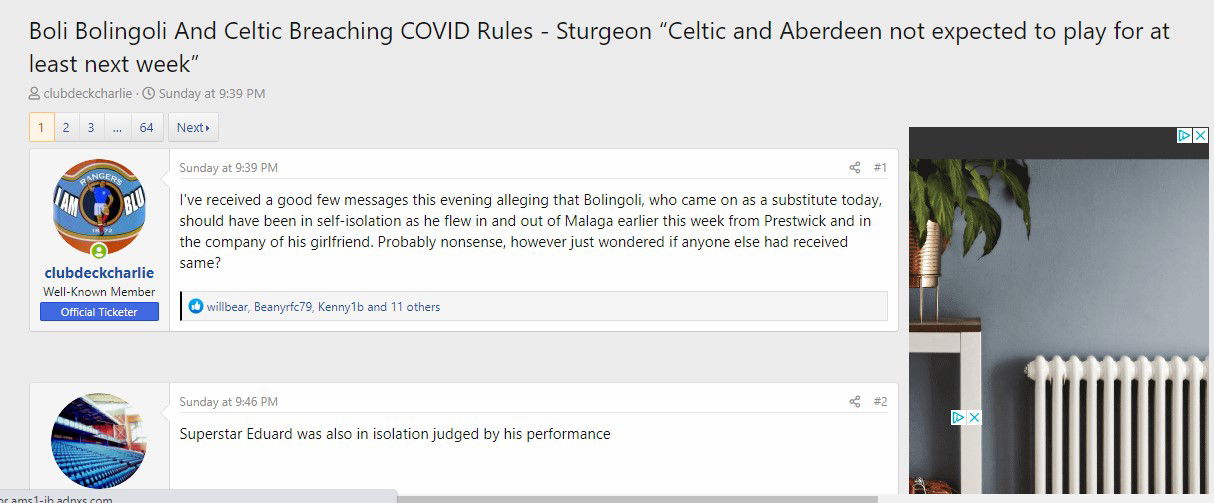 If Bolingoli had flown from Newcastle or Manchester he could have gone largely undetected but somehow he was able to go through Prestwick Airport twice without anyone at Celtic knowing about it.
One Ibrox fan certainly knew, sharing his information on Follow Follow on Sunday night a few hours after the final whistle at Kilmarnock.
Had Celtic discovered Bolingoli's trip to Spain at any stage between Wednesday and Saturday much of the sting could have been taken out of the drama. The player could have been isolated and disciplined, it could even have been held up as an example of the extent that club's go to to ensure that they and their players are complying with the rules.
Neil Lennon's workload is heavy enough but among the multitude of people employed by Celtic there ought to be enough contacts and intelligence out there to detect a serious issue involving a player ahead of an Ibrox message board.