One Ibrox punter has got to the root of the problem with the much heralded kit deal with Castore Sport.
For three months Tom and Phil Beahon were hailed as visionaries as two lads from a Liverpool lock up explained how they were poised to topple Nike and Adidas in the highly competitive sportswear market.
All of the buzzwords were used in an incredible media charm offensive with the most desperate blogs and podcasts treated to some words of wisdom from the sweet talking Scousers.
Following years of disputes with Mike Ashley and kit deals with Puma and Hummel fans were reassured that their tribute act was actually a global brand with a worldwide fan base.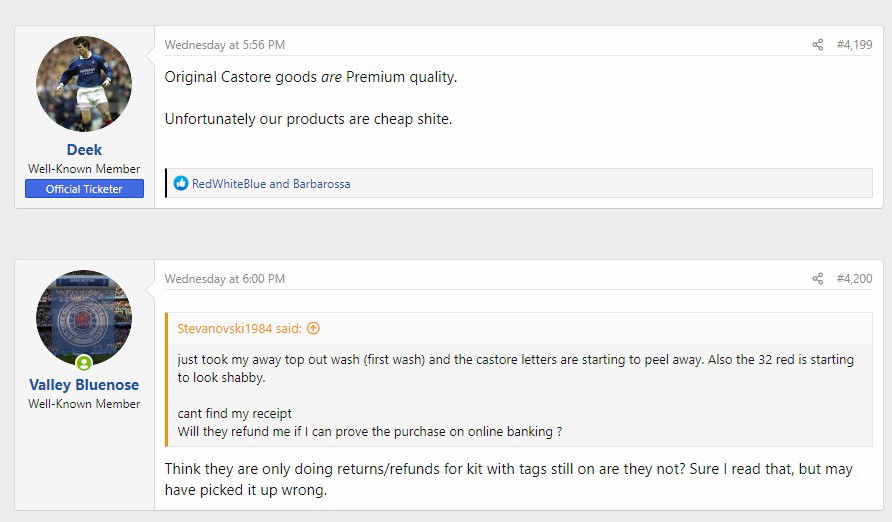 In very limited numbers Castore made high end sports garments with gold and tennis shirts around the £100 mark with T-shirts kicking in at £50.
Fans were promised high quality kit #betterneverstops and the Gullibles bought into it in their thousands.
Horror stories appear on a daily basis on social media with the truth about Junior Lifestyle Sweatshirts being that they are school jumpers with a couple of iron on badges.
Castore have had their reputation trashed over the last few weeks, next season it will take more than three orange strips to get the Gullible to fork out again to help the Scouse charmers.