Tom and Phil Beahon ducked out of a meeting at Ibrox last night as a select group of 10 fans met with Marketing guru James Bisgrove to discuss the club's new kit deal.
Around the time of the exciting new strategic partnership Tom and Phil were appearing in the mainstream and social media like the launch of a new boy band as they shared their ideas about a global brand with a massive fan base with the Gullible.
Yesterday they sent their Head of Partnerships, Andy Cole, to palm off some excuses and promise jam tomorrow which seemed to be well received by the selected fans. Cole took part in the face to face meeting by Zoom.
In an account of the meeting given on Follow Belgrove there was no mention of the superior quality stock available from Sports Direct. No other high street store has stock of the kit, not even Greaves of Glasgow.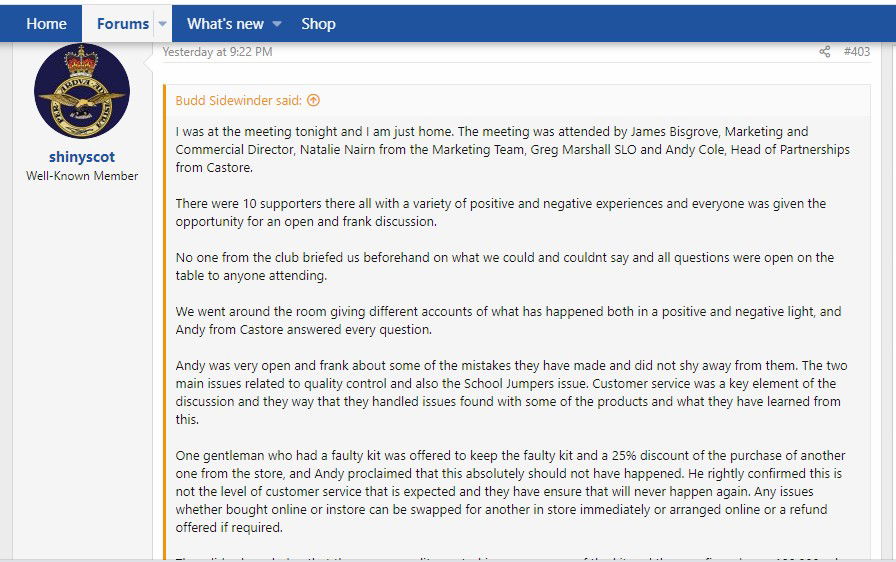 The kits have been riddled with quality issues, those manufactured in India and Turkey seem to be vastly inferior to the kit that comes from China with letters falling off misshaped kit after one visit to the washing machine.
In a move typical of Castore Cole announced that they had increased their Customer Service staff by 400%, they cynical might take that as an increase to five in that department.
At the turn of the year Castore were pitched as a high end sports brand poised to rival Nike and Adidas but since their Ibrox kit hit the streets they are now viewed as the modern days Ratners.
Last month Tom and Phil were hands on as they soaked up the attention of the official opening of the new 'better never stops' Ibrox store.