A former Celtic View reporter has warned that 'Lawwell and Desmond won't now want to be seen to be bowing to the neds'.
The comment was retweeted by Stephen McGowan of the Daily Mail while Celtic issued a statement condemning the fans that gathered to protest after the 2-0 defeat from Ross County. The statement mentioned the management team and players being targeted with missiles. On Twitter the only missile pictured was an inflatable shark that had decided to protest!
A small number of fans did chant inappropriately about Neil Lennon which has absolutely no justification but amid two wins in 10 matches, four consecutive home defeats and being out of three competitions before the start of December the chanting isn't quite the pressing issue.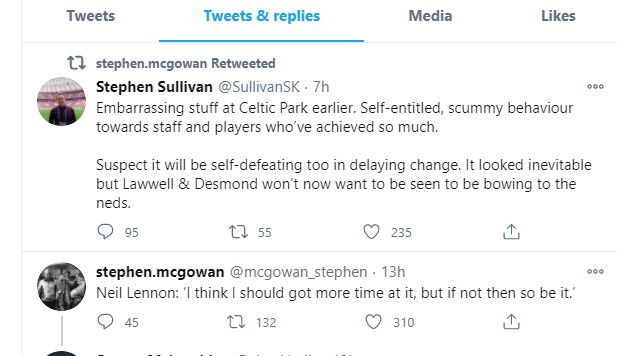 It's come from our team having won 11 straight domestic trophies and people going mental when we play poorly (and it has been very poor) for a while. Vitriol towards club legends and good people is shameful.

— Stephen Sullivan (@SullivanSK) November 29, 2020
Justified in complaining. Been very poor lately and fair to call for change. But there's a way to do it and kicking down fences to get at players and staff who're on the verge of a quadruple treble is not what I would see as reasonable.

— Stephen Sullivan (@SullivanSK) November 29, 2020
Fair in everything you write there. It's not the protesting that depressed me. It's the way it was done. Just my opinion of course.

— Stephen Sullivan (@SullivanSK) November 30, 2020
You're right. I'm not defending the performances (dreadful). And you're well within your rights to protest. If you didn't kick over a fence or chuck anything, the tweet isn't aimed at you.

— Stephen Sullivan (@SullivanSK) November 30, 2020
Or in the board room

— Herewego10inarow (@JanKubis) November 29, 2020
Change should have been inevitable weeks ago, but has looked anything but based on PL & DD's reaction thus far

"but Lawwell & Desmond won't now want to be seen to be bowing to the neds."

this is a professional sport, not an episode of Coronation St

Give yourself a shake man

— Chris (@hampden75) November 30, 2020
They've a right to protest. The team looked on fire Jan-March. Can forgive being behind a Rangers team on form, but Lennons took a good side and destroyed them. Same players, no settled side, they look beaten before they take to the pitch vs weaker teams, and he wants more time!!

— Wull Rankin (@wullgy) November 30, 2020
Footage from outside Celtic Park earlier (according to (fill in blank)) pic.twitter.com/QZYCzADn0V

— Craig (@craigmcd0nald) November 30, 2020
Bit naïve if you think tonight isn't an expected by-product of a board's failure to engage with their paying customers and a clear lack of respectable standards which management and players have shown in their performances. Delay would probably increase the number of dissenters..

— Reckoner (@Reckoner1888) November 30, 2020
Bowing to neds ??

— Wolfe Of Parkhead ???????? (@ParkheadWolfe) November 29, 2020
And your 2nd paragraph is the reason why Lawwell and Desmond should follow Lennon out the door

— Bryan Morris (@bryan_morris1) November 29, 2020
Sullivan worked for Celtic while Martin O'Neill was manager. His biography of Sean Fallon is one of the best publications on the history of the club, these days he works for FIFA.
With no communication from the club about the run of results it is understandable that fans that paid out £500 and upwards for a Season Ticket to watch matches from home are concerned at the way the season is developing.
Ironically Lennon has in the past provided an outlet and bridge between the supporters and the elderly leadership of Celtic with the detachment across the club highlighted by the protests and the statement.
Further developments are expected today with McGowan in the Daily Mail reporting that Lennon faces crunch talks over his future this morning.