Celtic's hierarchy has denied briefing a friendly journalist who referred to fans as having 'an enormous sense of entitlement'.
The comment appeared in the Daily Record soon after the Betfred Cup defeat from Ross County which saw supporters protesting outside of Celtic Park.
Communication from the club has been heavily criticised by some fans with over 50,000 Season Ticket holders largely left in the dark despite committing, in many cases £600 per person, with no realistic prospect of being inside the stadium this season.
That lack of communication was worsened by comment from a source quoting Dermot Desmond in the Daily Record with a similar message broadcast by Jim White on TalkSPORT.
With their own TV station, website and multiple social media platforms it shouldn't be a problem communicating directly with supporters but one way or another it seems that newspapers and broadcasters that are invited inside Celtic Park have free reign to publish damaging claims against Celtic supporters.
Covering a Zoom meeting held by the Celtic Trust following their meeting on Thursday with Peter Lawwell, SLO John Paul Taylor, Club Secretary Michael Nicolson and Financial Director Chris McKay, Hail Hail 67 reports:
Peter Lawwell said it is a tricky situation. There are things they can say publicly and some things they can't. They absolutely denied that Dermot Desmond said fans were entitled. They said they absolutely had not been briefing friendly journalists.
On November 30 Keith Jackson informed Daily Record readers:
Our source said: "Dermot Desmond is simply not the kind of man who will be dictated to by a hate mob – if anything what went on after the game on Sunday has strengthened his resolve to give Neil another chance to turn things around.

"It's obviously been a terrible run of results for the manager but last Friday, despite the Europa League defeat against Sparta Prague, Dermot was absolutely unequivocal in his support for Neil. Yes, the defeat to Ross County was a bad one but the reaction to it was even more unacceptable as far as Dermot is concerned.

"Neil knows he can't go on losing games indefinitely but he will also not be thrown to the wolves just because of the demands of a bunch of fans with an enormous sense of entitlement."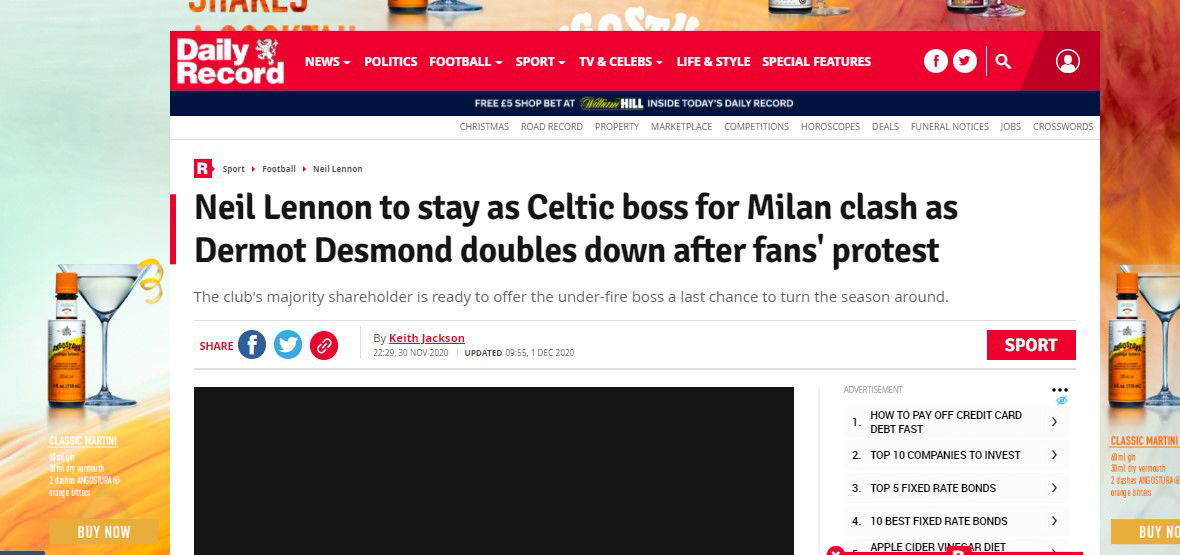 With the Daily Record given match access and invites to Zoom conference calls from Celtic it seems that the club is in a very difficult position.
On one hand they are telling supporters that they haven't been briefing friendly journalists at the same time they are giving access to a publication which apparently fabricated a story from a source close to Dermot Desmond.
In a statement from the club on December 7 the board denied that they had referred to supporters as entitled.
In his only newspaper interview this year Peter Lawwell spoke to Keith Jackson of the Daily Record in June about his hopes of having a test event with fans inside Celtic Park before the SPFL season got underway.