Follow Follow has been forced to chop a thread that fans had been flocking to ever since the company at Ibrox announced an internal investigation into unknown issues last night.
The popular Message Board is something of a rallying point for Ibrox fans to speculate on and share their conspiracies.
Throughout Sunday there had been claims across Social Media about employees in breach of Social Distance regulations.
Late on Sunday night Police Scotland released some details of an incident that required 10 Fixed Penalties being issued in the early hours of Sunday with the subject brought up at the media conference hosted by the First Minister.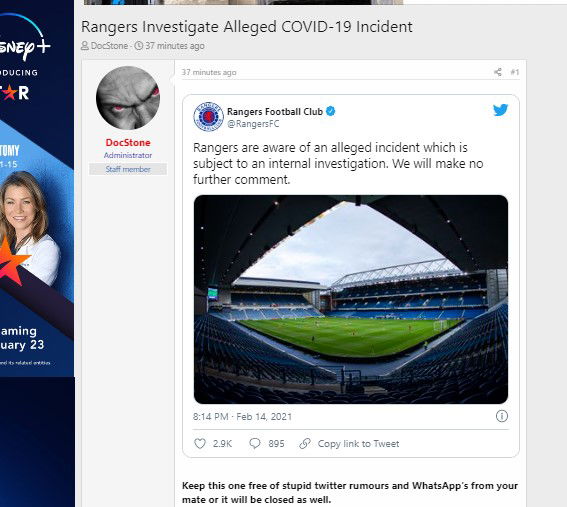 More than 24 hours after their Twitter announcement there has been no further comment from inside Ibrox which is in marked contrast to a similar incident in November.
In the early hours of November 2 Fixed Penalties were again handed out, shortly after mid-day that same day it was announced that Jordan Jones and George Edmundson were suspended by the club and self isolating.
That prompt action hasn't been repeated this time with Social Media continuing to speculate over who may be involved and the circumstances.
With the SFA and SPFL also falling silent it looks like a joint approach is being put together which may involve saying nothing at all rather than explain the reason for their Sunday statement.