The barricades are going up again at Celtic Park.
In November some barricades went up around the front entrance to the stadium after protests from Celtic fans after a horror run of results but an operation on an entirely different scale is now being planned.
The Scottish Government has placed next Sunday's Glasgow Derby in doubt but while the fixture remains scheduled Celtic have to make security plans.
'Celebrations' over the weekend at Ibrox and George Square suggests that a significant number of people aren't prepared to stay at home and respect social distancing with Police Scotland unable to uphold the law.
The Sun reports:
HOOPS chiefs will set up a giant security fence around Celtic Park on Friday ahead of the Old Firm game to protect the stadium over fears of violence.

The ring of steel is being erected as the powderkeg fixture hangs in the balance amid fears thousands of fans will take to the streets near the ground following Rangers winning the Premiership title.

It's understood the barrier will snake around Parkhead to keep yobs at bay and block access to the nearby Hoops superstore and the statute of Lisbon Lions captain Billy McNeill.

The move comes in the wake of Gers' title-win on Sunday which sparked mass lockdown-breaches across the city and calls for the March 21 game to be scrapped.

A Celtic spokesman said: "Following the events of last weekend we are enhancing security around the club's property in the run up to the match."
'Ring of steel' and 'powderkeg' are two trademark phrases for any security related story but there can be no doubt that Celtic Park will be under attack if the match goes ahead.
Should Celtic cancel their travel deal with Park's of Hamilton
Yes, what on earth are we waiting on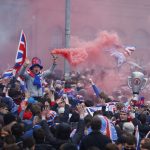 No, Peter says we are bigger than that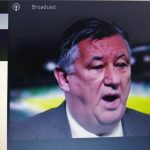 The Glasgow Derbies in October and January were played with virtually no troubled associated with them but the events of George Square are a bleak warning to the football authorities, Police Scotland and the Scottish Government over what could unfold.
Paying for the policing of football matches is the responsibility of the home club.