Sky Sports are the latest media outlet to fall foul of the Ibrox PR machine- and rather more powerful than a House Full message issued to The Athletic.
This season there has been a ferocious drive inside Ibrox to ensure complete obedience to the message with a variety of outlets in the bad books with 'fan media' growing in influence.
Sky Sports contract covers far more than showing the matches, for their premium they expect to be at the front of the queue for everything going with an invite to Jamie Vardy's gaff in 2016 par for the course.
Steven Gerrard is the biggest draw in the Scottish game for Sky subscribers but after watching him constantly fail to win a title at Liverpool the Sky cameras were virtually excluded from the weekend celebrations.
The Sun reports:
FURIOUS Sky Sports chiefs are locked in talks with Rangers amid claims of a title party snub. The TV giants, who backed Scottish football to the tune of £125million last summer, have also sought assurances from the SPFL.

Sky are understood to be fuming they were not given greater access to Steven Gerrard and his players after Rangers secured the title at the weekend. It's believed the league's major rights holders were further angered when Gers sanctioned an exclusive Gerrard interview on rival channel ITV on Tuesday.

Sky's top brass are speaking with Light Blues representatives and SPFL supremo Neil Doncaster.

A Sky source said: "We are disappointed with the lack of access we have had from Rangers in the last three days and we are in dialogue with both them and the SPFL to try to resolve the issue.

"Steven Gerrard spoke to ITV, which he is entitled to do but as domestic broadcast rights partner with the SPFL, starting a new five-year deal last summer, it's fair to say we expected greater access. We want to work through this and reach a resolution."
The ITV interview was presented to Glasgow based Peter Smith who has been loyal and true throughout the season, barely putting a comma out of place with his fawning coverage.
Sky Sports can showcase the club and Gerrard to a far more important audience than ITV but are clearly unhappy at being overlooked from the top table.
The Ibrox PR team must now decide whether to double down on Sky for daring to go public with their criticism or whether to admit to a mistake and keep onside with the media deal that effectively underwrites and owns Scottish football.
Sky Sports does have Kris Boyd on call 24/7.
Should Celtic cancel their travel deal with Park's of Hamilton
Yes, what on earth are we waiting on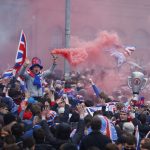 No, Peter says we are bigger than that