Out on nowhere John Kennedy has dropped Bayern Munich and Borussia Dortmund into a discussion about the future of Odsonne Edouard.
The striker seems certain to leave Celtic in the summer with a report in the Daily Mail claiming that Leicester City were very close to agreeing a £15m fee for the Frenchman.
With Paris Saint Germain due a 40% cut of any fee above £9m that figure would give Celtic a profit of just £3.6m after four years at the club.
Even allowing for the deflation in transfer fees and uncertainty over the full impact of a pandemic most Celtic fans would be hoping that selling their top scorer could raise around £25m towards a summer rebuild.
Kennedy was asked directly about the Leicester report but opted to bring in the German giants to the equation with Jadon Sancho and Leroy Sane both leaving English clubs for Germany.
At the end of January Celtic sold Jeremie Frimpong to Bayer Leverkusen which suggests that German clubs are keeping a close eye on Celtic.
8 minutes
When you have good talented players there is always interest, there always is and that's what happens. You see it around Europe now, especially big clubs, they make moves quicker now on players, especially young players, you see your Bayern Munich's. Especially in Germany, Bayern Munich's and Borussia Dortmund, moving very quickly on players, paying the fees early.

I've no doubt that there is interest in Odsonne, as there was last season and all the time that he has been here because of the talent that he has got but ultimately the club will do the right thing for themselves.

We want to keep him for as long as we can because of the talent he's got, and the ability he's got. Having a player like him in your squad only makes you better.

But ultimately there comes a point, either contractually or the players' motivation and everything else when you have to sit down and address that. That will be done in the summer but he is very focussed, the way that he has trained this week has been superb. He is very focussed on what he can do from now till then and then we'll deal with that in the summer.
Is £15m a fair price for Edouard?
No way, we should chase Leicester at that price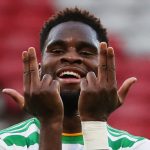 Yes, times change, we have to be realistic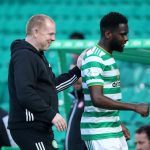 Edouard has scored 83 goals for Celtic, earlier this season he became the record goalscorer for the French u-21 side, taking the record from Moussa Dembele.