He won't win any popularity contest but many Celtic fans were shocked to discover that Andy Walker has been banned from Celtic Park.
According to the report in The Sun it seems that comments made on January 11 by Walker on Sky Sports about Celtic's trip to Dubai sparked the action.
Strangely the former Celtic striker was on Sky Sports duty at the March 21 Glasgow Derby with news of his ban emerging on May 3 the same day that it was revealed he had been banned from Ibrox for another Glasgow Derby.
Celtic fans are no cheerleaders for the media, they might disagree strongly with Walker on many issues but his comments about going to Dubai seemed in line with most supporters. Peter Lawwell seemed to realise that making his only media appearance of the season to give a heavily qualified apology about the disastrous five day Dubai trip.
Kris Boyd has been a regular target for the anger of Celtic fans. Last January he chose to make a very personal attack on Leigh Griffiths quoting 'facts' that weren't actually facts! Earlier that month Sky Sports had mistranslated quotes from Alfredo Morelos that claimed he had been subjected to racist abuse from Celtic supporters.
Media bans are something of a rarity by Celtic, nothing official has come out of the club but the timeline for this one seems highly unusual.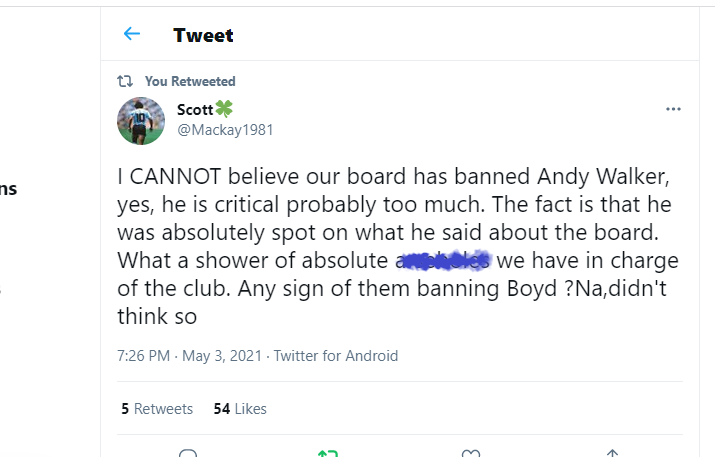 Totally agree mate

— Scott? (@Mackay1981) May 3, 2021
It does seem a strange one, I just wonder if there is more than we know

— BKKBhoy (@BhoyBkk) May 3, 2021
Just to mention there have been many times the club should have stood up and banned reporters and players

— BKKBhoy (@BhoyBkk) May 3, 2021
So we banned Andy Walker as well? What perverse positions this club puts me in at times. If that story is true it's a flat-out disgrace. He like everyone else was perfectly entitled to have a pop at us over Dubai. To ban him for that is petty, arrogant and frankly ridiculous.

— TheCelticBlog (@CelticBlog2018) May 3, 2021
Precisely mate. Ridiculous.

— TheCelticBlog (@CelticBlog2018) May 3, 2021
Strange, considering what others have said consistently and got away with it.

— jamsie cotter (@johnmack12345) May 3, 2021
Its as if we are part of something that we say we're not.

— steven mccourt (@ether_67) May 3, 2021
Absolutely scandalous if celtic have banned Andy walker , Andy was 100% correct about the trip to dubai , the celtic supporters have to hound these chancers ftom our club .

— Dannylogan (@Dannylo89011163) May 3, 2021
Why did Andy walker get banned?

— Jayden ???????? (@JidCFC) May 3, 2021