Scotland return to the international stage next week with the SFA set to humiliate the national with their 'Taking The Stand' gesture against racism.
Most other countries in the competition, most notably England, have been sending out a strong message by Taking The Knee but it seems that the SFA prefer to follow the Ibrox precedent which was established after the got gubbed in the Europa League by Slavia Prague.
Gareth Southgate has spoken out against fans that have booed players Taking The Knee at England friendlies.
Scotland players took the knee in matches earlier this season but will now show their opposition to racism by standing still pre-match as they have done since before the murder of George Floyd in Minneapolis last summer.
Scotland's stance will be put in firm focus next Friday when they face England at Wembley. While a multi-racial squad Take The Knee their opponents, 95% of the squad who are white, will stand still with the eyes of Europe and beyond.
The SFA will have Comms Specialist Darryl Dazza Broadfoot to keep the football reporters in line but as the issue spills over into news, politics and social media they may be forced to explain why they are more aligned with Hungary than the majority of western European nations.
Should the Scotland players Take The Knee?
Yes, shouldn't even be a discussion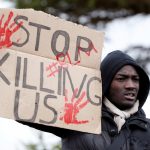 No, the SFA have got this one right
Scotland blasted by fans and celebrities for not taking the knee before Euro 2020 games – as they urge SFA bosses to reconsiderhttps://t.co/zPG8g89yhb pic.twitter.com/p1mekLLJo2

— Scottish Sun Sport (@scotsunsport) June 11, 2021
For Scotland's players to stand looking at England players as they take the knee will be: a) a shocking moral failure, b) an act of neanderthal cultural stupidity, c) an aid and comfort to fascists everywhere…and d) the fucking mortal riddy of all time. pic.twitter.com/bjj9ZmGL8Y

— Peter Arnott (@PeterArnottGlas) June 10, 2021
Scotland players will not take the knee at the tournament – what do you think of the move?https://t.co/4WDEF0HXFL

— The National (@ScotNational) June 10, 2021
Cowards. Every racist will hijack this 'stand' as a nod that Scotland agrees with their poison. SFA have made a huge blunder here.

— Matthew Leslie (@mattleslie74) June 10, 2021
The Ibrox klanbase will be delighted with this capitulation by the SFA. pic.twitter.com/QwCgXzG6yM

— Phil MacGiollaBhain (@Pmacgiollabhain) June 10, 2021
Sad but unsurprising.
Scotland remains stuck in its uncomfortable void.
The FM will likely body-swerve this one as popularity is the game.
The bowling club committee reigns supreme.

— rtb (@batumi95) June 11, 2021
I imagine it's the only option they would all agree on … id like to see them take the knee during the Anthems ….

— HaMFaCe (@briancubby) June 11, 2021
It would be helpful if standing, players made the Black Power Fist of Jesse Owens.

— Cyril Matvech (@Cyril_Matvech) June 11, 2021
Corrupt and supporting sectarianism- which is really racism anyway, we are nowhere near rooting out the corruption in the SFA. And it's there at all levels. Just pathetic.

— Ali Watt ??????? ??? (@FifeArab) June 10, 2021