The SFA have bungled their way into another embarrassing situation- unsure of their stance against racism.
On Monday Steve Clarke's players will stand against racism before facing the Czech Republic, at Wembley they will be taking a knee alongside Gareth Southgate's side before taking a stance against Croatia when they return to Hampden.
It seems like a Committee decision as the SFA react to various pressures with 25 out of their 26 man squad being white.
Almost every nation at the European Championships will take the knee. England fans have booed and jeered the gesture before friendly matches but that has only doubled the resolve of Gareth Southgate to ensure that his multi-racial squad tackle the issue full on.
As we've seen over a multitude of issues leaderships is badly lacking inside the SFA, Scotland took the knee until anti-racism activists surfaced at Ibrox following a Europa League defeat from Slavia Prague.
Since they ditched Taking The Knee the SFA have been in a difficult situation with a botched attempt at showing their opposition to racism. No Scottish club has ever been punished for racist actions by supporters, in 2019 parts of Ibrox were closed for two Europa League matches as punishment for racist actions of home supporters.
Should the Scotland players Take The Knee?
Yes, shouldn't even be a discussion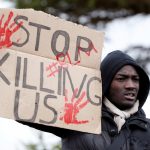 No, the SFA have got this one right
On Thursday the SFA stated:
The Scotland Men's National Team will continue to take a stand against racism prior to kick-off for all UEFA EURO 2020 matches.

The squad, coaching staff and backroom members will stand up to racism ahead of the Group D matches against Czech Republic, England and Croatia.

Andy Robertson, Scotland Men's National Team captain:

"It is important we continue to tackle the issue of racism and raise awareness of the need to change people's mindsets but also their behaviours. Prior to our World Cup qualifiers in March we spoke as a group and felt that taking a stand was the best way for us to show solidarity and also to reinforce the need for meaningful change in society."
A day later after heavy criticism over their stand the Steve Clarke stated:
In light of divisive and inaccurate comments being perpetuated by individuals and groups, whose views we denounce in the strongest terms, we have reflected today as a group. We remain committed to our principles of taking a stand but we must also be unequivocal in condemning the opportunistic false narrative being presented by some.

We have therefore agreed that we will show solidarity with our counterparts in England, many of whom are team-mates of our own players, and who have found themselves on the receiving end of abuse from fans in recent international matches.

We will continue to take a stand – together, as one – for our matches at Hampden Park. For our match at Wembley, we will stand against racism and kneel against ignorance.
Andy Robertson added:
But it is also clear, given the events around the England national team, taking the knee in this tournament matters as a symbol of solidarity.

For this reason, we have collectively decided to again take the knee as a team for the fixture against England at Wembley Stadium.
The message from the SFA is as clear as mud but can be summarised that in Scotland they stand alongside their friends at Ibrox but rather than have that stance exposed at Wembley the players will take the knee.