The SFA have turned the spotlight on themselves with the announcement that Scotland players won't Take The Knee against racism during the European Championships.
Taking The Knee has become football's symbol of support against racism following the murder of George Floyd last year in Minneapolis.
It was universally backed by football teams when the game resumed after Lockdown but after Slavia Prague's Europa League win at Ibrox anti-racism activists decided that doing nothing was more appropriate. After that match UEFA handed out three match suspensions to Kemar Roofe and Glen Kamara for acts of violence.
Celtic were one of the first clubs to fall in line with their 'rivals' from Ibrox but at all major matches players have continued to Take The Knee.
Since fans have returned to matches there has been noticeable booing of players taking the knee. Rather than cave in Gareth Southgate and others in the England squad have tackled the issue full on, doubling down and reinforcing their determination to tackle racism.
A week today Scotland take on England at Wembley, as the cosmopolitan and multi-racial England squad take the knee Ian Maxwell's side will stand up in defiance.
Should the Scotland players Take The Knee?
Yes, shouldn't even be a discussion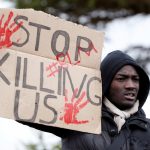 No, the SFA have got this one right
The booing of the England team for taking the knee exposed racism, hysteria & a predictable backlash, well done to them for persisting?? #EURO2020 as for ???????? @SRtRCScotland https://t.co/fHvm5KhXkh

— Aamer Anwar???#BlackLivesMatter (@AamerAnwar) June 10, 2021
Take the knee Scotland. End of. #Euros

— Ricky Ross (@rickyaross) June 10, 2021
The optics of white Scottish players standing and black English players kneeling is going to be fired around the globe. Someone needs to intervene.

— Colin Quinn (@realcolinquinn) June 11, 2021
Shambolic decision. Whether you agree with left wing politics or believe BLM aren't a positive force, the recent reaction to the England players taking the knee shows there is still complete justification for it.

— John kennedy (@johnskiebeats) June 10, 2021
It's a riddy and no mistake – how is doing that thing teams always do before an international match making any kind of statement – the knuckledraggers are being appeased..

— Pdizzle (@paulgordondick1) June 10, 2021
@ScottishNT A staggeringly bad decision and a huge mistake. Its a simple gesture to support anti-racism. We will now be in the situation where England will kneel & we will stand. Vast majority of Scottish fans will be totally against this & be embarrassed, not to mention angry!!

— JOHNNY (@JohnnyRondo1) June 10, 2021
Yes @ScotlandNT showing themselves up as "cowards" and allowing racists to impact the narrative…well done @EnglandNT ??????

— Jayfer55 ??? #BothVotesSNP #DissolveTheUnion (@ferguson2811) June 10, 2021