There weren't many Celtic fans pleased by the news that Leigh Griffiths has been named in the squad for the Champions League qualifiers against Midtjylland.
Kris Ajer and Olivier Ntcham look to be on their way out the door after being left out of the squad but it is the removal of Griffiths that many supporters are calling for.
After naming the 30-year-old in his squad Ange Postecoglou revealed that Griffiths is back in training and in contention for a place tomorrow night.
During his seven years at Celtic the striker has been through many unfortunate incidents but the recent Police investigation was different territory entirely.
While no criminality was found it is an incident that won't be forgotten. Griffiths might think that he gets a tough time of it from opposition fans, if he plays again for Celtic he'll find the abuse and derision aimed at him on a different scale entirely.
When he got his 12 month deal on July 1 it seemed a worrying sign about recruitment inside the club, after his latest batch of headlines it seems madness that the club is giving a further chance to a player that missed pre-season a year ago and failed to complete 90 minutes throughout the season.
On Sunday morning even Boris Johnson bowed to a public outcry after a wrong judgement call, if Celtic are reading the room they ought to realise that there are some values more cherished than scoring a goal in a European match.
Should Leigh Griffiths play again for Celtic?
Yes, we need him and his goals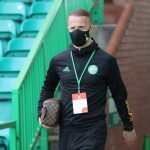 No way, this is sickening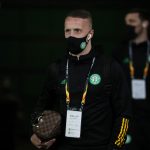 ? Ange Postecoglou reveals Leigh Griffiths is back in training and back available to play against Midtjylland.

"Once Leigh came back into the squad and everything was settled – then he's back to being a Celtic player and back being part of the squad". pic.twitter.com/iixd7Bduw8

— Andrew Maclean (@AndrewMaclean_) July 19, 2021
How can they keep him on after this. He needs to be transferred now or at the very least put out on loan. Its a disgrace.

— ?????? (@Steviebarry89) July 19, 2021
— James ?? (@JamesMcDonagh_) July 19, 2021
Honestly the club is getting nothing right at the moment.

— Caino (@CainoMan) July 19, 2021
Disgusting that he's still at the club never mind involved with the squad. Never been so disenfranchised with Celtic.

— StPaulsCeltic (@StPaulsCeltic) July 19, 2021
That's how desperate a position we are in.

— Tom McKenzie (@TomMckenzie24) July 19, 2021
Should have got rid of that parasite years ago and he's clinging on to a 40 goal season that happened years ago, it's about time we got rid of him

— Ciaran Edelsten (@ciaraned) July 19, 2021
Basically just threw my clubs values in the bin

— Angeguardiola (@angeguardiola1) July 19, 2021
Should be nowhere near the club, an absolutely disgraceful decision.

— John Patrick (@JohnPatrick365) July 19, 2021