Club 1872 have suffered a massive drop in subscriptions as they attempt to take control at Ibrox.
Set up by Dave King in 2015 to wipe out all other fan organisations Club 1872 once held an 11% shareholding in the company founded by Charles Green but that has been virtually halved by repeat share issues in exchange for writing off loans.
In June 2017 King pulled off one of his greatest ever stunts when he got the gullibles to pay off Mike Ashley by buying shares at 27p each from the Sports Direct chief, a profit of 26p per share for Ashley. Hong Kong based Julian Wolhardt also contributed with Club 1872 sticking £1m in Ashley's bank account.
Last year according to an Ibrox media partner Club 1872 raised just £408,494 from subscriptions which works out at £34,000 per month meaning that less than 2,000 fans are paying in £18.72 per month.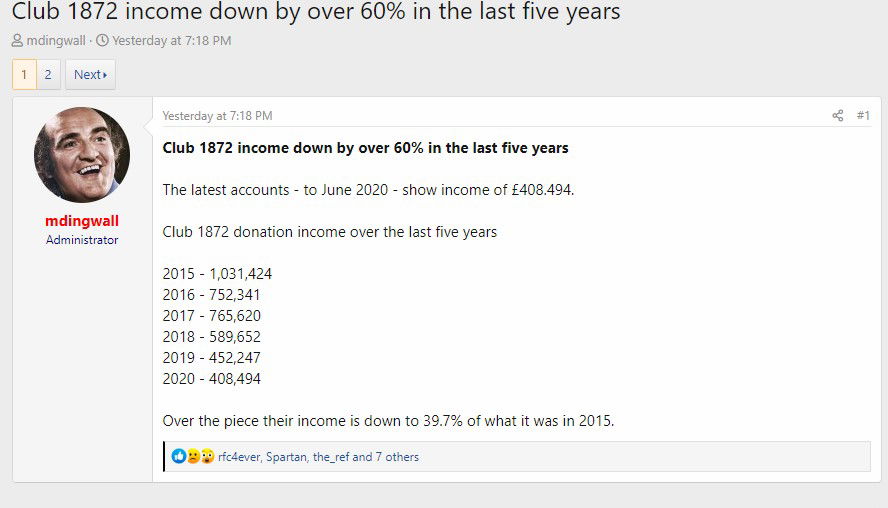 In contrast, seven years after going into administration 8,000 Hearts fans are still paying £18.75 per month to repay Ann Budge for saving the club from liquidation in 2014.
Hearts are now owned by their fans with their continuing subscriptions providing the club with working capital as well as raising the funds for major ground improvements such as a new Main Stand.