James McPake has defended Leigh Griffiths from what he describes as unfair criticism.
On Deadline Day the former Livingston and Hibs team-mates were reunited as manager and player at Dundee with Griffiths way out of favour at Celtic despite signing a new contract on July 1.
There is clearly a special bond between the two men but if Griffiths doesn't make an instant impact on his new club he's likely to find a less sympathetic dressing room.
Over the last three seasons Griffiths has been indulged at Celtic through a variety of issues, paid a large wage with very little in return. That was Celtic's decision to give him a contract in 2018 and a fresh one two months ago.
During Lockdown Griffiths got so out of condition Neil Lennon went public on it, last season Griffiths failed to complete a full 90 minutes.
With their tight budget there is less room for passengers at Dundee but McPake isn't bothered by the baggage that comes with his latest signing as he told the Daily Record:
I don't worry about it. I didn't worry about it when I was his captain at Hibs and I didn't worry about it when I was his captain at Livingston because I know him.

I believe with the relationship I have with him he will work hard for me. Sometimes he brings it on himself, we know that, but I think he gets unfair criticism.

It is about managing a human being and we are all hypocrites if we say we are perfect. Leigh knows if he has an issue he can come to me and he has done so over the last 15 years, even when he has been a Celtic player.

I have had a relationship with him as a friend, a team-mate, as a captain and now a manager so I am not worried about his baggage.
Has Leigh Griffiths been unfairly criticised?
Yes, he is a decent bloke and top professional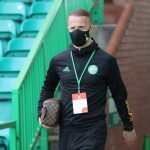 No, scoring goals in the past has covered a lot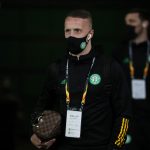 Griffiths is likely to make his first appearance for Dundee next Saturday at home to Livingston with both clubs looking for their first win of the season.
Related posts