Kris Boyd has delivered the most personal attack on Leigh Griffiths ahead of Dundee's clash with Steven Gerrard's side at Dens Park today.
The on-loan Celtic striker is likely to be the target of constant abuse from the away support with Boyd letting rip with some grievances that have been brewing since Griffiths 'shooshed' him up with a goal against Kilmarnock in January 2020.
Never slow to dish out scathing criticism of Celtic players Boyd had put the boot into Griffiths earlier that season, writing off the prospect of a return to action and goals.
Griffiths had made a scoring return against Partick Thistle in the Scottish Cup four days earlier but his goal and celebration at Kilmarnock touched a nerve with Boyd letting all his anger out in today's Sun column:
KARMA has a way of catching up with people. Leigh Griffiths is about to find that out the hard way at Dens Park.

He was laughing when he tied that Celtic scarf to one of the goalposts at Ibrox a few seasons back. Grinning from ear to ear during an Old Firm game the day he waved his Irish tricolour from the Broomloan Road Stand.

When he wiped his nose on a Rangers corner flag he thought he was being clever. Well, let's see how smart he is when Rangers supporters tell him what they think of him.

Griffiths is about to get bombarded with 90 minutes of relentless abuse and if he's got a brain in that head of his he better be prepared to take it.

Listen, I'm not going to go into the reasons why supporters all over the country are going to give him a hard time this season. Frankly, I want nothing to do with it. But what I will say is that Griffiths only has himself to blame — and the sooner he realises that the better.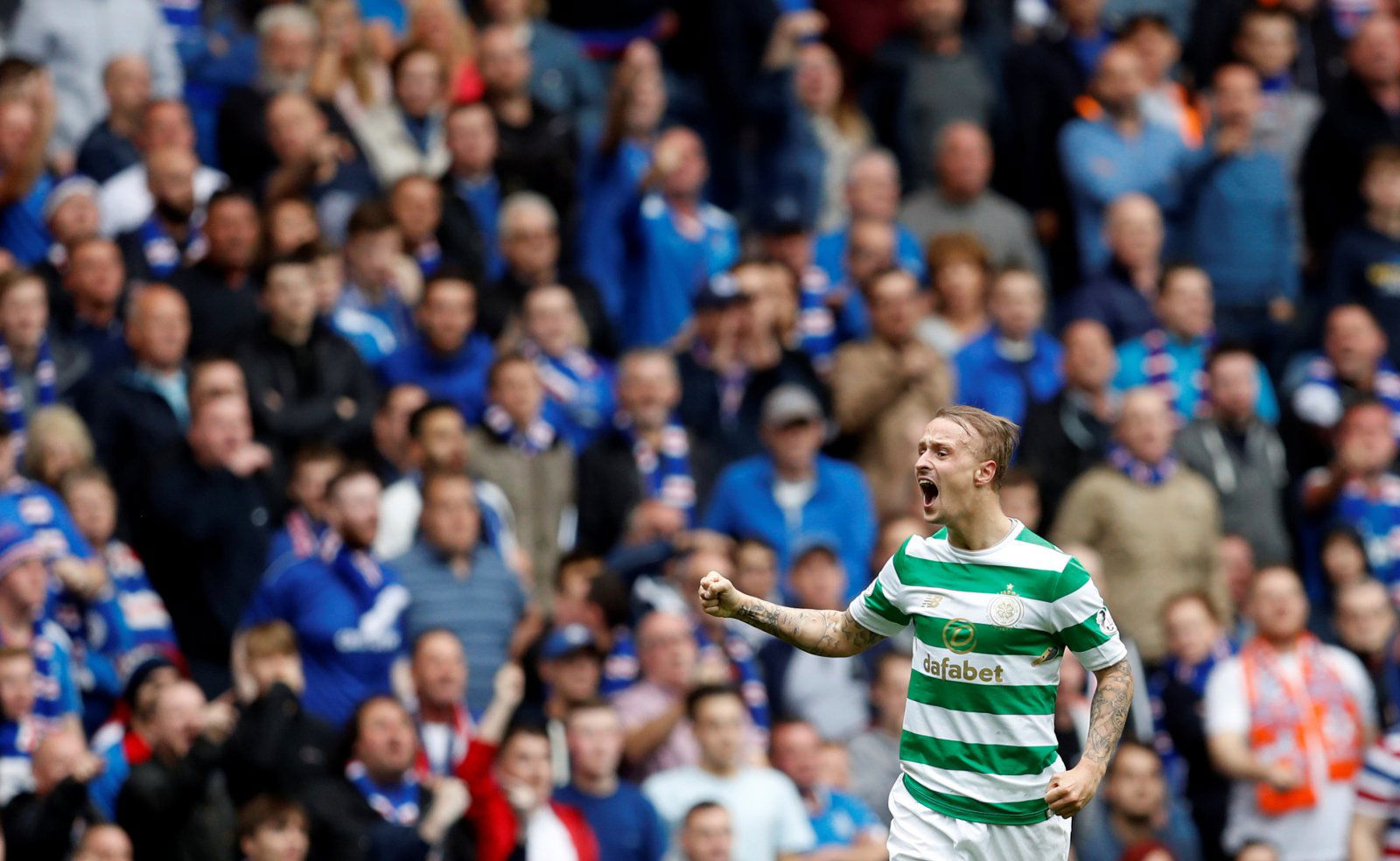 That goal at Rugby Park was one of eight in 13 appearances from Griffiths as Celtic tied up 9-in-a-row as Gerrard's men collapsed when the pressure was on.
Yesterday the on-loan Celtic striker was charged for booting a firework into a stand hosting St Johnstone fans, whatever 'stick' he was taking in that match will be amplified several fold this afternoon.
Continuing his anger Boyd adds:
It seems to me that every time something happens to him he thinks it's someone else's fault. He wasn't to blame for how things worked out for him at Celtic, was he? No, that was all Neil Lennon's fault apparently.

Honestly, I can't remember reading anything as ridiculous as when Griffiths spoke about Lennon recently and claimed his ex-boss was just trying to stay relevant by talking about him. Really?

Are we talking about the same high-profile Neil Lennon who has been one of the most talked about personalities in Scottish football in the last 20 years?

Griffiths can't surely be serious when he says Lennon needs him to stay relevant. But that sums him up, doesn't it? Rather than owning his mistakes and taking responsibility for them, his default position is to go on the attack. If only he was as threatening on the park.
Confirming the highly personal nature of the attack, Boyd adds:
Those fans slaughtered me for criticising Griffiths and more or less saying it takes more than just ability to play at a top club.

But while my wording could have been better I think I've been proved right. When he scored at Rugby Park one day he looked up at me and made a shooshing gesture, but I stand by every word. He's not exactly silenced me since, has he?

Griffiths just hasn't looked like delivering for a long time now. His decline is there for all to see with his scoring record miles off where it should be. During the warm-up before the Dundee derby at Tannadice last weekend we were in the gantry preparing for kick-off when a ball flew past.

We were nowhere near the goals so it was obvious someone was deliberately trying to hit us. I didn't see who was responsible — but my money would be on Griffiths.

Why? Because he missed.
Some Celtic fans will agree with many of the points raised by Boyd, if Griffiths had acted professionally during Lockdown One he would almost certainly be preparing to face Dundee United tomorrow rather than getting game time under an old team-mate at a newly promoted club.
Columnists give opinions, perhaps today's was part of an anger management release for Boyd because he is unlikely to ever recreate those levels of anger and personal abuse again in a newspaper column.