Craig Levein has used the phrase bellend live on air.
The former Hearts boss was discussing his wacky new podcast on BBC Scotland with Kenny MacIntyre when he was getting teased about who could join him in a podcast.
After Levein's suggestion of a manager was dismissed he was gently probed about a former player to which he replied 'bellend' then added 'the individual that you are talking about has never been brave enough to go into management'.
Michael Stewart was a very vocal critic of Levein while he was steering Hearts on the road to relegation.
Since being sacked as Hearts manager and Director of Football, Levein has been a regular expert on Radio Scotland programmes. Hearts featured in possibly the worst ever 'fly on the wall' series when BBC Scotland charted them through the 2019/20 season, ignored the final match at St Mirren and their relegation.
Levein is expected to be among the experts covering tonight's midweek card which will have saturation coverage on Radio Scotland.
Straight after using that term Kenny MacIntyre apologised while others on the podcast giggled at the comment from the former Hearts boss.
BBC Scotland is the only media outlet paying Levein, Stewart is also a regular on BT Sport with a weekly column in The Sun.
As a player and manager Levein never won a single honour. On the brink of winning the Premier Division in 1986 he developed a sore tummy and missed the match as Hearts bottled it away to Dundee at Dens Park.
Did I hear Craig Levein actually call Michael Stewart a bell-end last night on radio, right at the end??? pic.twitter.com/IPXiW4ICuS

— ScotsAbroadPod (@ScotsAbroadPod) October 26, 2021
CLICK HERE for Sacked in the Morning- Levein's foul mouthed BBC podcast.
Which opinion do you respect most?
Craig Levein- former Scotland and Hearts boss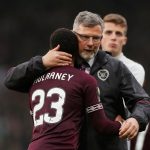 Mikey Stewart- gives his opinion without fear