More than two months into the domestic season and almost everything about Ange Postecoglou has been served up in the media.
Eight SPFL matches and two Premier Sports Cup ties played with the Australian in front of the media before and after every match, in standard media conferences and also one to one interviews with rights holders such as BBC Scotland, Sky Sports and Premier Sports.
Postecoglou's tactics, transfer activity, future plans and player assessments have all come under review with barely a question avoided. He seems like the typical Australian with straight answers, even adding in 'mate' fairly regularly in his replies.
There is one subject that no-one in the media seems interested in asking. A look on social media would uncover the topic, since Sunday's win over Aberdeen there has been a focus from supporters on the performances of referees.
On day one away to Hearts Callum McGregor was the victim of a horrendous foul from Andy Halliday that went uncommented on. With referee Bobby Madden a regular on Open Goal alongside Halliday many would have thought that was a line of questioning to take up.
At Ibrox on Sunday Steven Gerrard was given the opportunity to share his thoughts on Ryan Porteous- he didn't hold back as he slammed 'the kid' making reference to previous matches against Hibs.
This season there has been a pattern developing where Celtic enjoy more than 60% possession in games yet somehow manage to concede an incredible number of free kicks.
Most opponents can count on getting over 20 free kicks which is useful for breaking play down, nowadays time wasting has been rebranded as game management.
Last week against Dundee United Celtic had 63% possession but their opponents only gave away five fouls. In contract, despite having the bulk of the ball Celtic committed 12 fouls according to Kevin Clancy.
Something even stranger happened in the win away to Aberdeen. Celtic had 62% of possession but managed to get through 27 fouls according to Madden. In contract the hoops were only given 10 free kicks.
Despite these stats there has been virtually no questions about refereeing put to Postecoglou. No one seems to want to ask him about his side's disciplinary record. Perhaps the Aussie might give the wrong answer.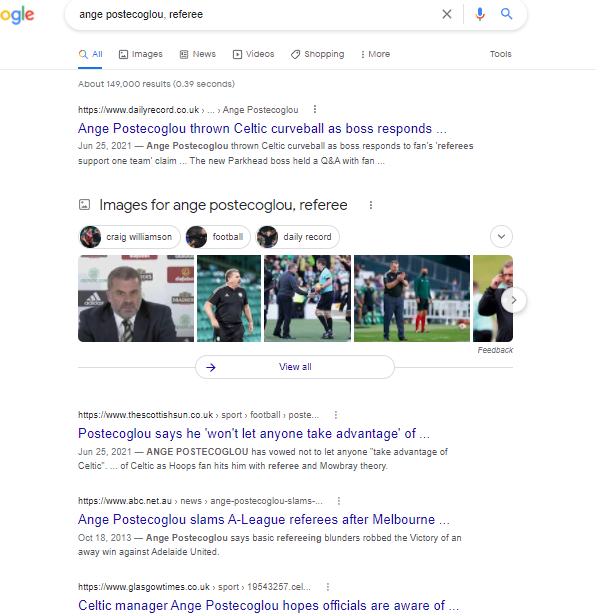 A google search on Postecoglou and referees produces a deep dive into the past. The Daily Record and Sun published stories linked to the fan media conference Celtic staged to introduce their manager and former CEO, since then fan media has been kept away from the manager. In 2013 he was unhappy with a referee in an A League match.
On August 27 the Glasgow Times ran a story relating to Kyogo Furuhashi getting rough treatment, on Google that is followed by stories relating to matches in Japan and Australia.
Page one of Google produces a story from June 2017 about a referee missing an obvious penalty in an Australian international match.
Celtic are next in action away to Motherwell on October 16, perhaps ahead of that match Postecoglou will be asked about the high number of fouls his side is giving away, or perhaps he won't.
Stats for Celtic v St Mirren.
Celtic possession = 66.6 minutes
St Mirren possession = 23.4 minutes.

Celtic were penalised every 1.3 minutes of St Mirren possession.
St Mirren penalised every 6.66 minutes of Celtic possession. pic.twitter.com/t2I0AtR95L

— Daniel O'Connell ??+???????=? (@DanielOConnel18) October 4, 2021
Anyone else getting the distinct impression referees are doing everything in their power to disrupt Celtic's game? Almost two-thirds possession, yet penalised almost three times as much as Aberdeen. This is a consistent pattern all season. pic.twitter.com/qnDOtQ4je0

— Daniel O'Connell ??+???????=? (@DanielOConnel18) October 3, 2021