The rearranged Glasgow derby scheduled for February 2 could become the next battleground for Neil Doncaster to cope with.
This week the SPFL managed to find a compromise between 10 clubs wanting to bring forward the winter break with just two opposing the plan. Two out of three rounds of fixtures have been put back with no angry statements surfacing from any club.
Postponing the Glasgow derby was the most contentious issue with both clubs taking opposing views and Sky Sports the most significant stakeholder to be consulted.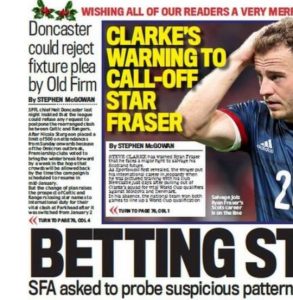 From BBC Scotland gossip page.
The rearranged date of February 2 is an international date outside of Europe with Celtic duo Tom Rogic and Kyogo Furuhashi almost certain to be unavailable.
Giovanni van Bronckhorst is likely to have three players involved in the African Nations Cup which runs until February 6 with the semi-finals being played on February 1.
SPFL clubs can request a postponement when three or more players are on international duty but it is only a request with the decision resting with the SPFL.
UEFA competitions and Scotland internationals kick in from February and March making a rescheduled derby suitable to Sky Sports something of a delicate issue.
At this stage it looks like a lose-lose situation for Doncaster but things could change quickly but there doesn't seem to be an obvious compromise for the SPFL CEO.
The third Glasgow derby of the season is scheduled for April 3 with the final pre-split fixtures one weekend later.