Premiership clubs are reported to be wavering over the possible £100,000 per team introduction of VAR. 
Scotland is the highest ranked UEFA nation that doesn't have VAR in place with almost all club managers supporting its introduction.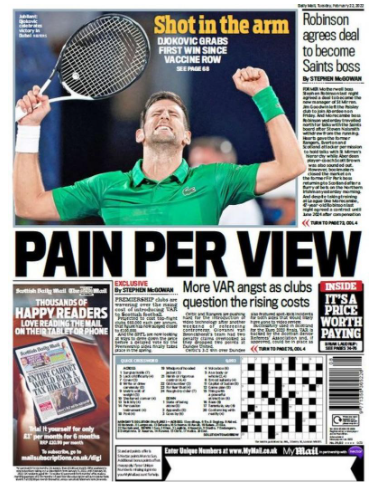 VAR was in operation at Celtic Park and Ibrox earlier this season for Europa League matches then packed away, similarly it was implemented at Hampden last summer for four matches during the European Championships. 
Every week fresh controversies are thrown up and while VAR isn't perfect it could see at least a 50% reduction in honest mistakes such as those evident on Sunday at the Celtic v Dundee match. 
Picking up on a report in the Daily Mail, the Daily Record reports: 
Top-flight clubs in the Scottish Premiership and the SFA are reportedly exploring ways to drive down the cost of VAR amid surging costs. 

The Daily Mail state teams are concerned over the price which is expected to cost close to £100,000 to each club per-season, which is significantly more than the original projection of £60,000. 

Title challengers Celtic and Rangers are vocal advocates of video replay technology, which is now commonplace in leagues across Europe and in continental competition. The rising price is causing clubs to "waver", ahead of a looming vote which is expected to take place in the spring. 

It is due to the decision to implement six manned cameras at fixtures rather than four fixed cameras. But it's understood the SFA have proposed to assist with a third of the cost and provided simulators at Hampden for match officials to become familiar with. 
Ross County chairman Roy McGregor explained: 
Clubs have to get the best deal they can, but decision-making will be better for everyone. 

We will fall behind other countries if we don't implement this. I don't think it's something we should compromise on. I don't know the figures involved, but I think we have to work hard to get the budget right so everyone can live with it because VAR helps the game. 

Referees are part of our game and we want the decision making to be better. I don't think we have any option. I think we have got to find the best financial solution we can. 
The SPFL would require six sets of cameras plus officials trained to use the technology and a nerve-centre for use on matchdays. 
Whether it is £60,000 or £100,000 per club it would be money well spent and improve the image of Scottish football as well as delivering fairer decisions. 
VAR has been a pressing issue since a meeting of managers and referees in January 2019 but three years later there is still no timeline for it to be introduced to SPFL matches. 
Penalty shout for Celtic.
Looks like a red as well. pic.twitter.com/eeXTJsoB20

— Lint (@Zeshankenzo) February 20, 2022
The greatest offside call of all time pic.twitter.com/varo8NvwLx

— Tim Trivia (@TriviaTim) February 20, 2022