Once again BBC Scotland have served up a succulent helping for loyal bears to enjoy with today's gossip page. 
Apparently Abdoulaye Sissako of Belgian side Zulte Waragem is Ibrox bound with the Sunday Mail picking up on rumours from Belgium about the 23-year-old who'll be out of contract next month. 
Not only is Sissako heading for Ibrox but so too is Lancelot Pollard. Who? An 18-year-old forward at Aberdeen who is also wanted by Liverpool and Manchester United. Give it a fortnight and PSG and Real Madrid are likely to be joining the race (BBC Scotland understands)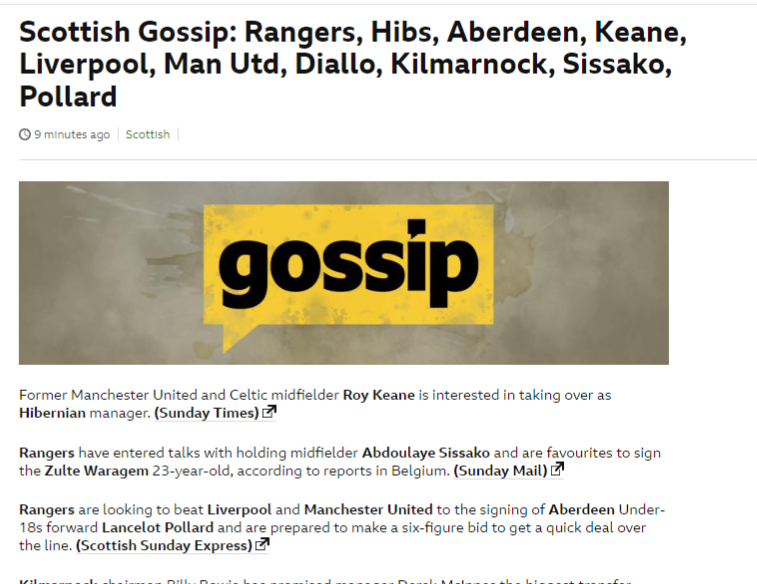 On Saturday Jacob Brown was on the radar despite interest from Burnley, West Ham and Brentford- shouldn't be too difficult a choice for the Stoke City striker who has a year left on his contract. 
Thursday morning's good news was that Brazilan starlet Antony Alves was Ibrox bound from Portuguese minnows Arouca. The 23-year-old has started four matches this season and came off the bench 14 times but that was good enough for top billing with BBC Scotland's gossip page. 
Strangely they seem short on gossip about the futures of Allan McGregor, Leon Balogun, Steve Davis, Connor Goldson and Scott Arfield who have just over a month left on their Ibrox deals.