The SPFL winners will pay almost three times as much towards the cost of VAR as the team that finishes in 12th place. 
Various figures have been branded about regarding the cost of bring the SPFL out of the dark ages with figures of around £100,000 per club being quoted. 
That equates to two player salaries for many clubs but in a report from BBC Scotland a sliding scale will be applied that will see the SPFL winners pay for 16.29% of the costs with the two bottom placed clubs paying just 5.63%.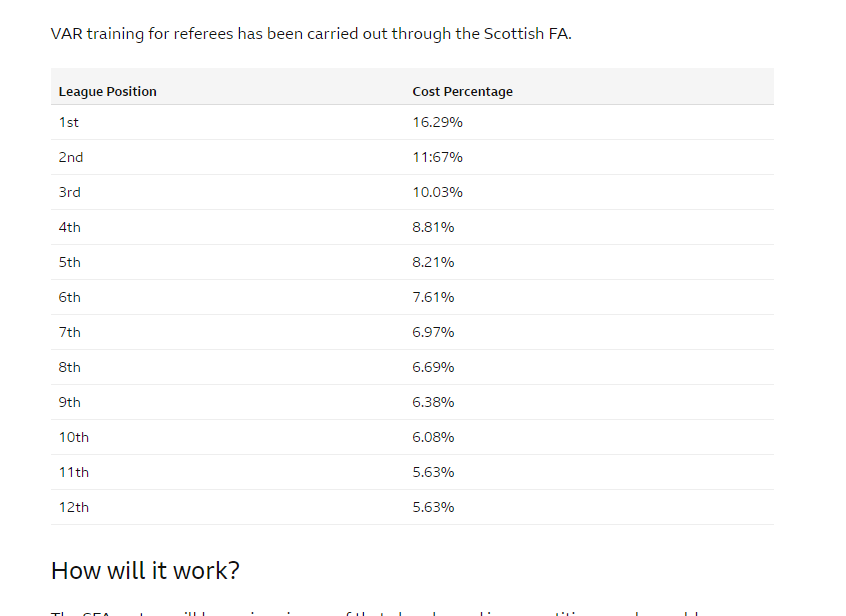 BBC Scotland reports: 
All 42 Scottish Professional Football League clubs will vote on the proposal on Tuesday, 19 April. 

If approved, VAR will be used in Scottish domestic games for the first time after December's World Cup finals. 

The 12 top-flight clubs will pay from between 5.63% to 16.29% each for the new system annually. Information regarding the estimated likely costs of the system, which will only be used by Premiership clubs, will be relayed to SPFL members prior to next Tuesday's video conference vote. 

The resolution requires 75% of Premiership clubs, 75% of clubs in the Championship and 75% of League 1 and 2 clubs combined to vote in favour. 
VAR has been used in Europa League matches at Celtic Park and Ibrox this season then packed away out of use for domestic fixtures. 
Just six sets of equipment are required but the running costs of installing the cameras at grounds plus having a team of trained officials to liaise with match referees increase the cost. 
No Scottish referees were selected for the 2021 European Championships or for this years World Cup.