It is one of the greatest ever examples of reverse marketing. 
The more that a petted lip comes out from Ibrox the greater exposure cinch gets for its sponsorship of the SPFL. Whether they have handed over a penny for a sponsorship deal that hasn't been honoured isn't yet known.
On Saturday at Motherwell half a dozen logos on a backing board went largely un-noticed as Graham Alexander carried out his post-match interview for Sky Sports. 
When Giovanni van Bronckhorst stepped in front of the cameras attention was turned to the white tape that suddenly appeared. 
All of a sudden cinch were trending on social media, reports appeared on websites without the SPFL sponsors spending a penny. The other firms on the backing board were ignored, not a mention anywhere. 
Since the cinch deal was announced they haven't had any direct publicity at Ibrox despite having half a dozen logos plastered over that cherished Castore top, cinch was apparently one too many. 
Typically the SPFL have backed off from taking any action. Across four divisions 41 clubs are providing pitch-side advertising, a logo on their shirt sleeve and also a logo on backing boards for media interviews. 
Other clubs are missing out on money for the greater good of the league while Ibrox closes the door- and inadvertently provide cinch with far more publicity than they'd get from direct marketing. 
Should Celtic create a cinch archway for Sunday's match?
Yes, just for the banter, obviously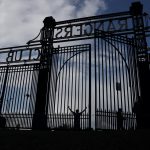 No, show solidarity with our O** F** friends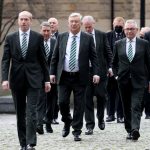 100% Celtic should have a Cinch archway rigged up for the players to walk through at next week's Glasgow Derby.

— Joe (@JosephK1888) April 24, 2022
Rangers' 'Old Firm' archway spotted beside Ibrox BINS just a day after defeat to Celtichttps://t.co/eg8fehCjQp

— Scottish Sun Sport (@scotsunsport) April 4, 2022
Now that Alexander is being interviewed, we can confirm that they did exactly that. Hahahaha pic.twitter.com/2srDrJGCZM

— Mozza | Derek ??????? (@MozzaPlays) April 23, 2022
Wee idea for game at weekend ???? @CelticFC pic.twitter.com/a3floluUwg

— Chrissyboy (@COYBIGCMONHOOPS) April 24, 2022