BBC Scotland are putting the best spin possible on Ibrox transfer news.
With transfer speculation underway at every club the inevitable bad news that the Tribute Act can't afford Aaron Ramsey's £400,000/week wages is quickly lifted by the news that Paul Akouokou is on his way to Ibrox.
Spanish publisher AS isn't normally a source for the Gossip page of the state broadcaster but after the Ramsey story BBC Scotland has turned to AS for some good warming news.
Promising starlets are a regular target for BBC Scotland, back in January they were all over the £37m wonder kid that is Amad Diallo but the excitement over that move died a death around 7.45pm on February 2.
After starting just six matches for Real Betis this season Akouokou is about to get the full Diallo starlet treatment from the state with the state broadcaster leading the way.
A £2m transfer fee will be a surprise to Steven Gerrard who quit last November after the club imposed a spending freeze.
Strangely BBC Scotland also acknowledged a story in The Sun that the move for Akouokou was complete fantasy.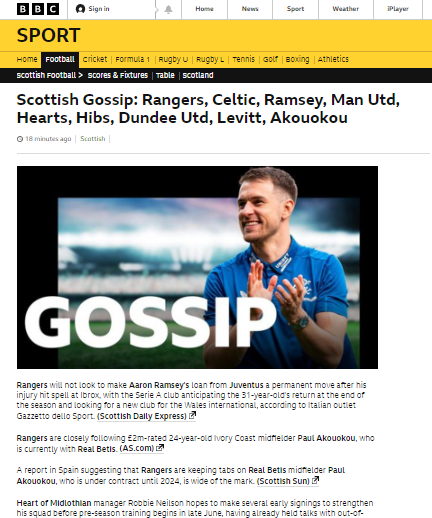 Meanwhile there is still no word on new contracts being offered to Allan McGregor, Connor Goldson, Scott Arfield, Steve Davis or Leon Balogun.
CLICK HERE for Akouokou stats and profile
CLICK HERE for BBC Scotland preferred gossip.