After reading a harrowing tale of how cowering Ibrox WAG's came under fire from a barrage of Buckfast bottles, lighters and other missiles the Celtic board have taken their traditional vow of silence. 
The Daily Record published the story without any evidence other than some Celtic fans leaving by the exits at the section of the stadium closest to where 700 away fans were seated. 
Later this week it is expected that the Daily Record, part of the larger Reach Media group, will be invited to a Zoom call with Ange Postecoglou and a first team player to provide content for their dwindling army of readers. 
It appears that there is no action around their cherished Glasgow Derby that will prompt the Celtic board into action. 
When a physio was hit by a glass bottle at Ibrox last month the club stayed silent. No explanation has been given over how broken glass appeared in Joe Hart's penalty box during the half-time break in the same match. Again no comment from Celtic. 
Home fans came under physical attack from broken seats on Sunday- again there has been no comment from Celtic with the Daily Record happy to publish the sort of fiction that you'd expect from a moon-howler on a Message Board.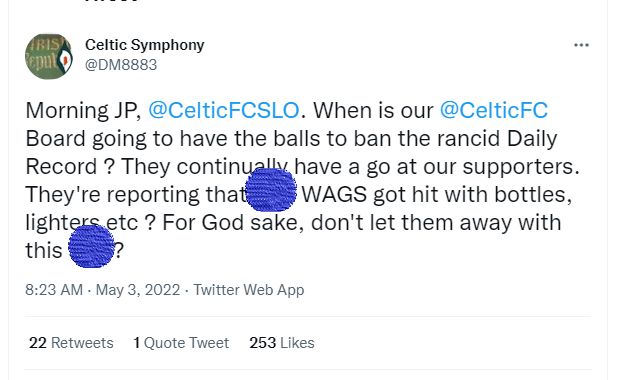 Rangers players' wives fled in terror after Celtic fans launched glass bottles into the away support during Sunday's Old Firm matchhttps://t.co/GOQUEJCdNY

— The Daily Record (@Daily_Record) May 3, 2022
There were 100 seats broken in the away section.

— dexy's lunchtime strollers (@daveross67) May 4, 2022
Hopefully they had that section covered by cctv and will release it to the public to show exactly what happened

— ???? Marko???? (@UsualSuspect717) May 3, 2022
Their statement was written well before a fan set foot in stadium

— Malcolm (@Malcwilson) May 3, 2022
We're the WAGS the elderly or the disabled?

— DavidCraig ??????????????????? (@Davybhoy0812) May 3, 2022
Daily Record the press? That's being generous, did you mean the piss?

— BishopWrong@nok4U2 (@Brockee2Poppy) May 3, 2022
Daily Record is owned by Reach Media…utterly uber unionist right wing organisation…also owns the Daily Express and many others. They are a fu$k%%g disgrace, and I don't swear on here that often

— James (@James14840315) May 4, 2022