The authorities in Seville have taken their first step to ensure that visitors from the UK are kept as far from the city centre as possible. 
After refusing to open Ibrox to ticketless fans Stewart Robertson has been told that his fans are welcome to watch the game on big screens, believed to be imported from Manchester, at the Estadio Cartuja. 
An hours walk north of the city centre there is a nearby park where bears can do what bears do in the woods without too much conflict or interaction with the locals. 
In contrast Eintracht Frankfurt fans will be given the scenic area around Prado de San Sebastian which is close to the Ramon Sanchez-Pizjuan Stadium and 15 minutes from the city centre. 
That subtle move will send the fans from Scotland out of the city centre with Eintracht fans able to claim Seville in much the same way as Celtic fans did in 2003, without any arrests.
Around 50,000 fans from each club are expected to travel to Seville for the match with each club allocated 9,500 tickets for the 40,000 capacity stadium. 
Last night delighted bears piled in to buy tickets for the beam-back with the system crashing. It is believed that a large number of tickets have been snapped up by fans from Croy, Coatbridge and Garngad. 
Seville council give Frankfurt fans a scenic square, equidistant between the city centre and stadium – serviced by tram, metro and bus. They give Rangers fans Seville's worst stadium which is an hour-long walk from the centre/stadium with no meaningful infrastructure/facilities. https://t.co/PEbNXOdW4I

— Colin Millar (@Millar_Colin) May 13, 2022
Colin Miller is the European Football reporter for The Mirror and author of The Frying Pan of Spain with 35,000 Twitter followers.
I remember it very well the gardens stank for days after and well tbh after that picadilly gardens has been a part of Manchester locals know to well to avoid it

— Scott (@111Scott111) May 13, 2022
Smart Council, The Rangers have a reputation.

— TheEssexHoops (Jamie) (@hoops_essex) May 13, 2022
Almost like they know exactly who they're dealing with! pic.twitter.com/4WdThKA9tE

— Spirit of Golac (@lcrxls) May 13, 2022
Yep. Perhaps they've seen the state they'll leave the place. Not to mention the rioting (win or lose) pic.twitter.com/PgaJ4zeBNm

— SaraSnoBaBarawa (@SaraSnoBaBarawa) May 13, 2022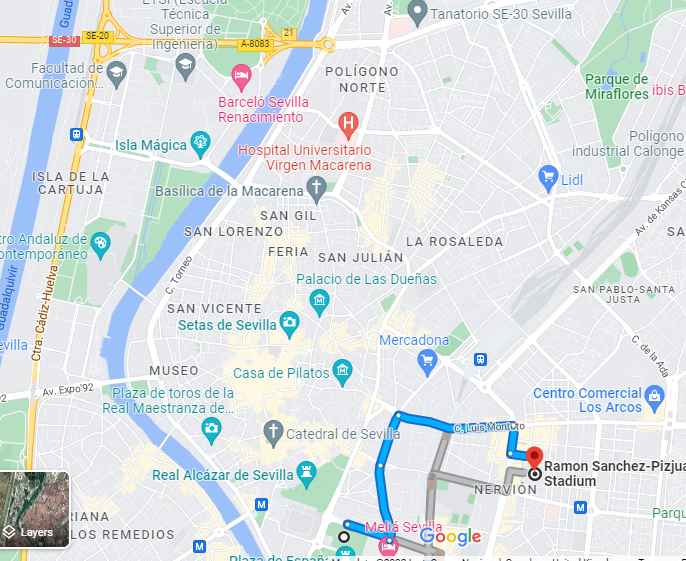 EINTRACHT FANS: Short journey from Prado de San Sebastian to Ramon Sanchez-Pizjuan Stadium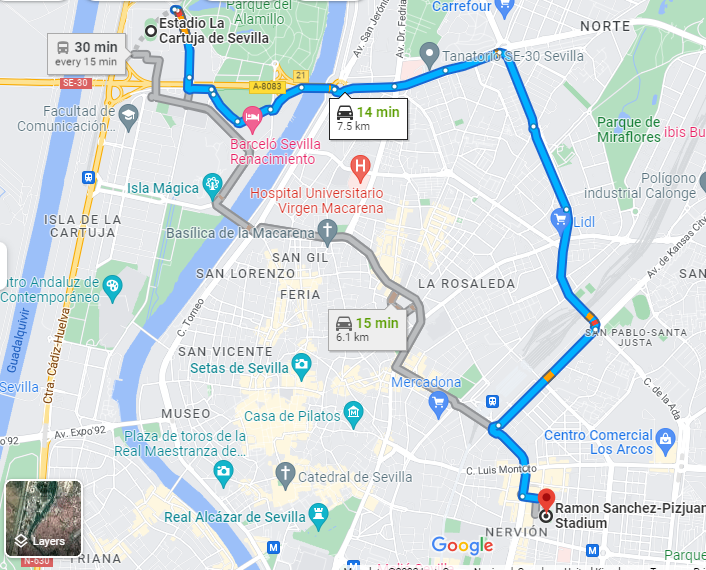 THE PEOPLE: Estadio Cartuja to Ramon Sanchez-Pizjuan Stadium