Ian Maxwell feels that honest mistakes will remain part of football even after VAR is introduced to the SPFL Premiership in December. 
Willie Collum, Bobby Madden, John Beaton and Kevin Clancy have been a law unto themselves for years with bizarre decisions going unexplained with their place on the SFA gravy train assured. 
Madden may be heading to England next season but his appalling performance in the Scottish Cup semi-final remains fresh in the mind. 
A series of utterly baffling decisions all went one way while John Lundstram was given immunity from any punishment. 
VAR will assist with goals and penalty claims but the succession of matches that see Celtic conceded most free kicks despite have more than 60% possession won't be impacted. 
Speaking to The Scotsman, Maxwell explained: 
We have got a real job to do in terms of education of the Press, supporters, managers, players. As in when do we use it, why do we use it, what do we use it for? 

People are kind of used to it because they have seen it, but it doesn't solve anything. If there is a corner that shouldn't have been a corner, it's not going to change that. Then someone scores from the corner and it's all 'why did VAR not fix it?'. 

It doesn't do those things so there is a real educational piece that we need to get through so everybody understands how we use it. It won't fix every problem. It takes officials from 94 per cent of decisions being right to 99 per cent. 

So it will get the big decisions right and it should get the big decisions right, but there will still be plenty for you guys to get your teeth into and plenty for supporters to argue about over a pint – because on one hand, you don't want to take that away. It's part of the game. 
No mention was made in Maxwell's interview about who would be operating VAR at a mystery location in an industrial estate off the M8 motorway. 
Will VAR improve decision making in Scottish football?
Yes, things will be out in the open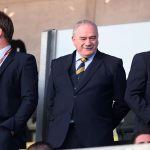 No, they can be highly selective now