Super Scoreboard have deleted a tweet promoting a brutal attack on John Hartson.
'Celebrity Jambo' Ewen Cameron made a number of claims about the former Celtic striker as he tries desperately to become a controversial character.
'Narrow minded, blinkered, biased and paranoid' was part of the clip used by Super Scoreboard to promote their podcast with Cameron replying to numerous tweets as he promised to attack other pundits in a similar manner.
Someone senior within SSB has decided to delete the tweet promoting the show.
No matter how hard he tries anyone with any knowledge of him knows that Hearts are Cameron's second team, his real club play at Ibrox. Put those two together and his dislike of all things Celtic becomes obvious.
Yesterday Super Scoreboard released the exciting new podcast, right at the end it included the Hartson attack, soon after Cameron had swore when questioned again that his only footballing interest in at Ibrox playing in blue and white.
It seems that a 'failed' medical at Ibrox in 2000 followed by five year at Celtic scoring over 100 goals has left a deep, deep scar on the 'Jambo' that craves attention and a media profile.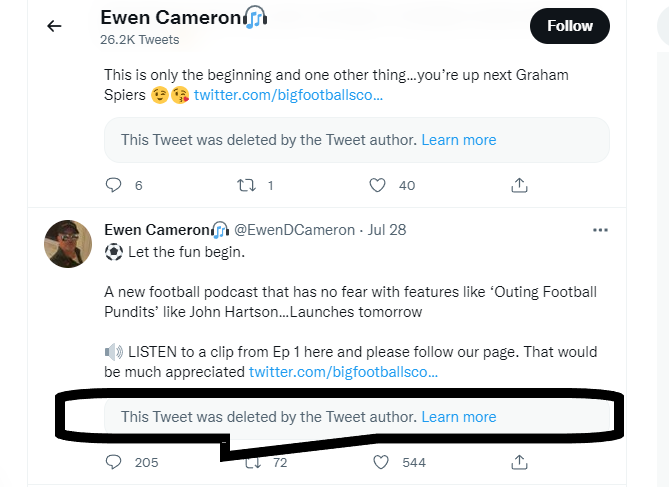 Fearless Cameron still promoting for his employer after they binned his 'hard hitting' Hartson attack.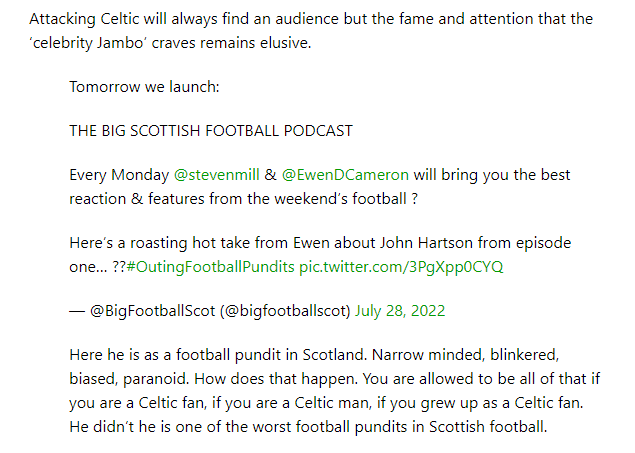 A clip and quote from the podcast attack on Hartson.
CLICK HERE for 43 minutes that you won't get back including Ewen discussing his like for peeing in the shower.
?? Episode 1 is here my friends.

"Jellyfish Golden Showers"

Enjoy & love to all of you, even the haters. It has been a rather interesting few hours ?

This is only the beginning and one other thing…you're up next Graham Spiers ?? https://t.co/Bjq3Qb3ubg

— Ewen Cameron? (@EwenDCameron) July 29, 2022
The Sun reports on @EwenDCameron now deleted podcast attack.https://t.co/3bgvxAJcp4

— Joe McHugh (@videocelts) July 30, 2022