Twitter this afternoon highlighted what appears a very unlikely court battle. 
The club from Ibrox seem to be forever embroiled in legal actions but one against the company that is owned by and bears the name of their Chairman is quite something. 
No details of the case seems to be available but 'CA54/22 Park's of Hamilton (Holdings) Ltd v The Rangers Football Club Ltd' has a head-scratching feel to it. 
Since March 2015 Douglas Park has been a director of the club founded by Charles Green in 2012, when Dave King walked away in March 2020 Park became acting chairman, a position that he retains. 
In 2012 Green gave the transport contract to Bruce's Coaches but in July 2015 Parks were back at Ibrox on the back of King's takeover. 
Recently the Ibrox club were able to get out of the SPFL's sponsorship deal with cinch by claiming that it contradicted a contract that they have with Parks. 
With news of a dispute between the club and the travel firm that cinch get out looks even more questionable. Douglas Park also has a substantial shareholding in Hamilton Accies.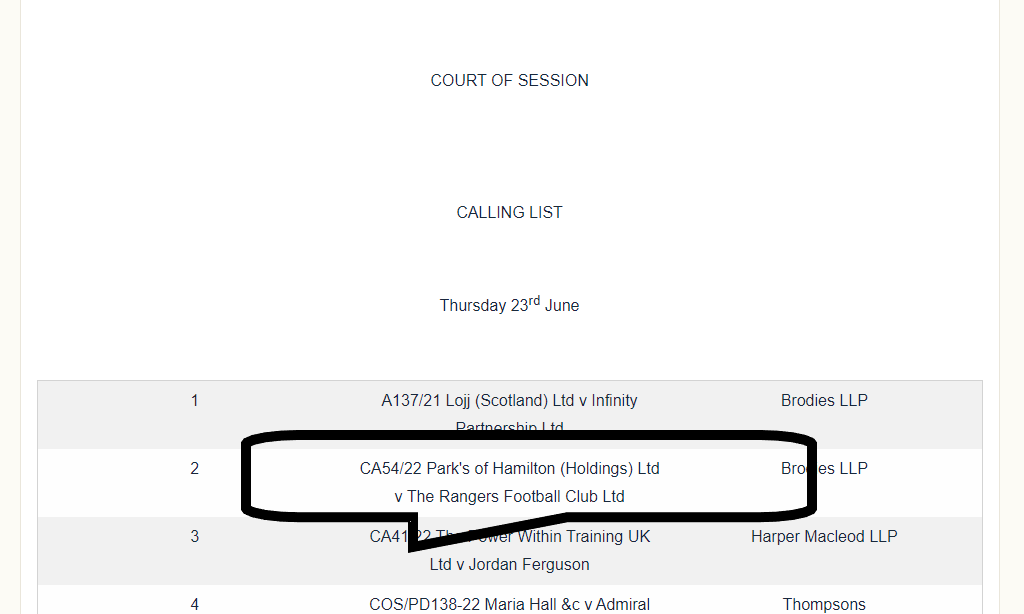 CLICK HERE for Scottish Courts and Tribunals, 23 June 2022.
It's not a small claim doon the sheriff court that's for sure.

— Teesandcees (@Teesbeesandcees) July 1, 2022