Daily sales of the Daily Record and the Sunday Mail fell below 70,000 for the first time ever during June. 
While there is a global contraction on sales in the industry the Glasgow based duo seem to be performing particularly badly with year on year drops of 16% at the Record and 19% on the Sunday Mail. 
During June the Record sold an average of 69,443 copies per day, the Mail which traditionally outsold its daily equivalent was down to 66,469 during the Sunday's in June. Source, Press Gazette.
Both titles are now part of the Reach Group which includes the Scottish Daily Express and Daily Star with the parent company desperately trying to retain some level of income against the switch to digital news. 
Glasgow Live!, Edinburgh Live and Aberdeen Live websites have been launched while Football Scotland is an attempt to rebrand the Record to a new younger audience that is more used to social media, message boards and blogs delivering the news that they like. 
According to SimilarWeb the Record website attracted 14.3m pageviews during June, at less than 500,000 a day with no cost to the reader it is unlikely that digital advertising will get anywhere close to the huge sums that print commanded not so long ago. 
Bolstered by Celtic's friendly relationship in providing special access and exclusive news the football sections of DailyRecord.co.uk help to prop up other sections of the company website.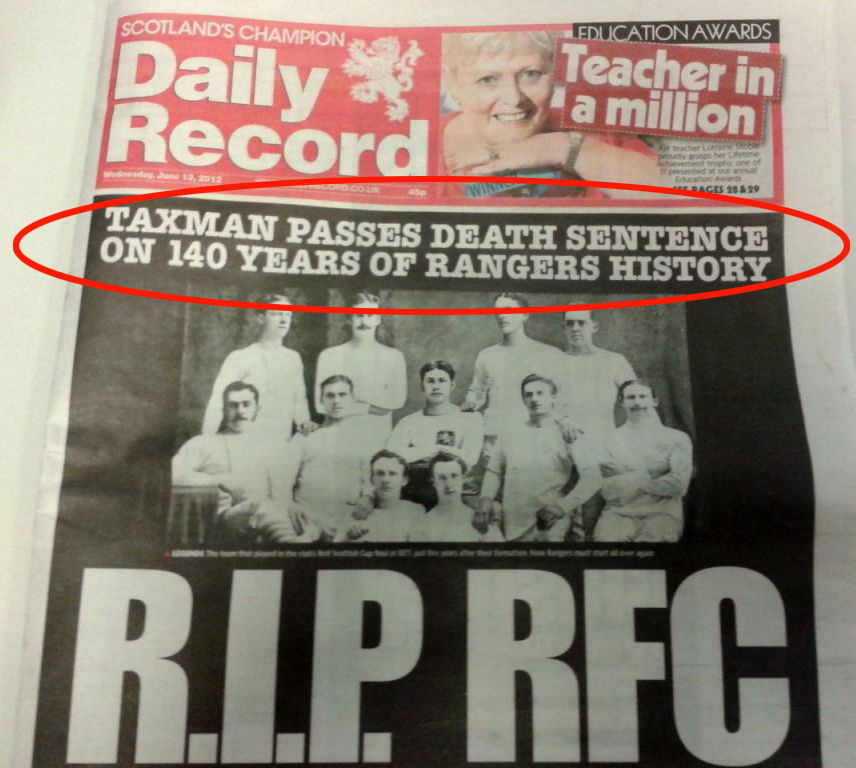 The June figures are a far cry from the hey day of the seventies and eighties when big name reporters like Alex Cameron and Alan Herron were at the centre of the football world, breaking the biggest transfers and managerial moves. 
Multiple editions of the papers used to be published, first off the press would be the Highlands edition, followed by Aberdeen before the City Final would be bundled up and sent across the central belt with folk waiting outside newsagents and garages to be first with the breaking news. 
While the Steak Pie factor is significant a series of major Own Goals, highlighted by social media, has contributed greatly to contracting circulation figures. The Pledge in 2014 might have helped towards saving The Act of Union but it hasn't brought any younger, independent-minded readers towards either title.
Introducing Craig Whyte as the billionaire from Motherwell was quickly destroyed online while the gymnastics over the death and liquidation of Rangers followed by their return and winning a 55th title without any explanation confirmed their contempt for the folk paying money over the counter for the Record and Mail. 
While the two Glasgow titles are selling less than 70,000 a day the Press and Journal (Aberdeen's broadsheet) was selling just over 30,000 per day in their last audited circulation from June to December 2021. 
The Record currently costs £1 to buy with the Sunday Mail having a cover price of £1.90.