It is more than two bad results that Giovanni van Bronckhorst is taking the flack for.
The Dutchman is the public face of the club, the man ultimately responsible for results on the pitch but below the surface a number of issues are causing concern and alarm.
Not least of them are developments at Celtic, across the city fans see a club transformed, on the front foot, evolving into the modern age in a way that would have been unthinkable under Neil Lennon 18 months ago.
All of the taunts that have been thrown by Celtic fans carry truth. Shouting WATP and 'world's most successful club' doesn't really stack up when every aspect of the club is open to ridicule.
Ticket prices of £60 per match for the Champions League didn't go down well, £17 more than Celtic fans are paying. The My Gers scheme simply seems like another money making venture while commercial wizard James Bisgrove picks up his bonus for bring companies like Sportsmongo and CTM Sport (official travel partner) into the fold.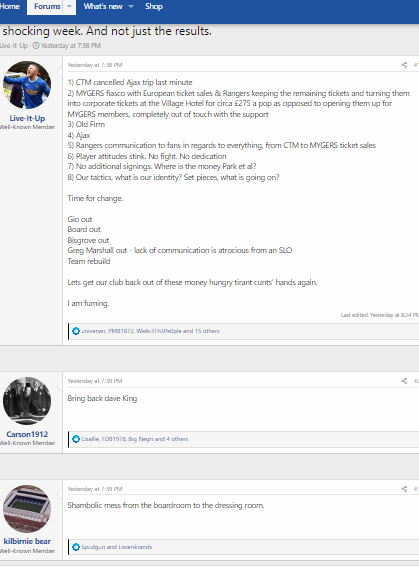 With Dave King sniping on the sidelines through his favoured media outlets supporters know that things aren't quite right. One look at Alfredo Morelos sums things up.
The spotlight is on the manager, if he gets sacked the same problems remain with more than a hint of dressing room unrest with Morelos, Ryan Kent, Filip Helander, Ryan Jack, Steve Davis, Allan McGregor and Scot Arfield out of contract in eight months time.