In their eventful 10 year history there hasn't been as many week's as traumatic as the last seven days endured by loyal bears.
Just a week ago they were poised to replace Celtic at the top of the SPFL Premiership then storm their way into the Champions League. Tonight they are celebrating getting a game at Aberdeen postponed after an aggregate of 0-8 in the last two matches, to top it all off the lady whose portrait hangs in the home dressing room is no longer with us.
On social media there has been some incredible reactions. Everyone, Anyone has been getting the blame for results- the players, coaches, directors have all been getting it as Billy, Stewarty, Rossco and Gordy try to put the world to right.
Another issue cropped up today as Follow Follow discussed the Laudrup and Gazza show at the SEC which was on at lunchtime then postponed at 3,30pm. At a similar time the Tribute Act were making it clear that they are lobbying UEFA to get Tuesday's match with Napoli booted far into touch.
While all loyal, obedient subjects to the lady that refused a CVA in 2012 some have been challenging the decision to cancel matches while cricket, golf and Rugby League pays a minute's respect then gets on with the game.
Some Ibrox fans want all forms of entertainment banned until the old lady is buried, others aren't quite as uber staunch John Wilson.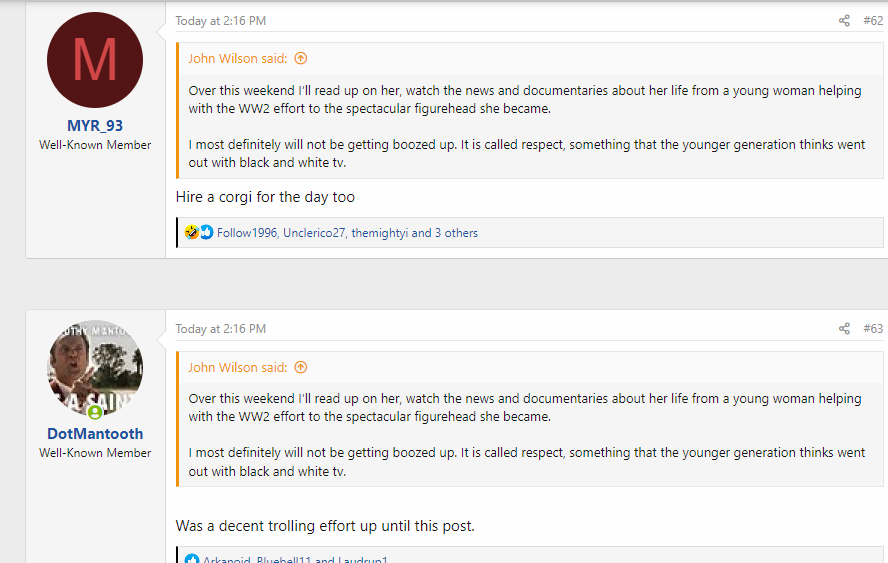 Hiring a corgi for a day earns five MyGers points towards tickets for Champions League away matches.
If only there were more bears like loyal John Ibrox would be a better place #qstq #watp #gstk