Chris Sutton isn't quite as trusting as his Daily Record colleagues over a solemn promise from Micky Beale.
For a full week the LIVEBLOG! At the Record was tracking every movement as the waited to celebrate the new manager at Ibrox.
With the cheerleaders out in full force Sutton cast his mind back to last month as loyal Beale was explaining why he hadn't engaged in talks with Wolves over their managerial vacancy.
It was heartfelt stuff as Beale explained why he couldn't jump ship, how important loyalty was- while he planned a trip to Ibrox to undermine Giovanni van Bronckhorst.
Michael Beale sent a solemn promise to QPR fans just over a month ago… https://t.co/pZDtor7SY1

— Chris Sutton (@chris_sutton73) November 28, 2022
Beale has trashed his reputation in England by his actions over the last couple of weeks, if he doesn't turn things round quickly at Ibrox he might have run out of options after less than a year in management.
Beale has signed a three and a half year contract and brought in three of his coaches from QPR.
Will Beale be more of a threat to Celtic than wee Gio?
YES! Top coach, outstanding with bibs and cones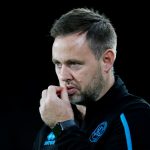 NOPE- Ange has that whole club rumbled