Kheredine Idessane had his professionalism tested as he shared the exciting news of a new manager being appointed at Ibrox.
There is always a danger with live television but not the sort that the tennis expert had to encounter as he delivered the good news from outside of Ibrox tonight.
Idessane was clearly excited to have Michael Beale back in town but one topless fan, who may or may not be BBC colleague Kenny Macintyre, went a few stages further as he pogoed around topless distracting the attention of the veteran reporter.
It wasn't the sort of thing that you'd encounter in Paris, New York, Sydney, Miami and the other stop offs as you followed Andy Murray around.
Reporting Scotland is joined by an unexpected guest live from Ibrox tonight. pic.twitter.com/c9urfico1V

— Chris McCall (@Dennynews) November 28, 2022
BBC Scotland will now have more than three weeks of round the clock Beale coverage led by Kenny Macintyre and Alasdair Lamont eager to show off who is the biggest fan with BBC Scotland outside the media bubble when Beale was first team coach to Mister Gerrard.
Expect Michael Beale to be announced as new @RangersFC manager in the next 48 hours. Also expect him to let younger players get their chance. Good news , if all goes through as expected, for the likes of Lowry and Lovelace. Bigger question is : can he close the gap on @CelticFC ?

— @Kheredine (@Kheredine2018) November 27, 2022
Will Beale be more of a threat to Celtic than wee Gio?
YES! Top coach, outstanding with bibs and cones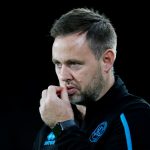 NOPE- Ange has that whole club rumbled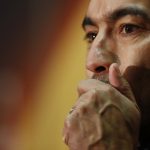 Rangers are my team, never hidden that. Be strange to have someone working on Sportsound that didn't support a team.

As for Kris Boyd. I know at times he is a wind up merchant, but he talks up our game. Would he be in the Sky studio tonight if he wasn't such a big personality?

— Kenny Macintyre (@kennymacsport) January 31, 2022