The Sports team at BBC Scotland have picked on 13 stories to cover in their Gossip page, picking up the big stories across Scottish football.
There is however one elephant in the room with no one at the state broadcaster prepared to go near the story of the Ibrox club being hit with a £9.5m losses claim from Elite/Hummel.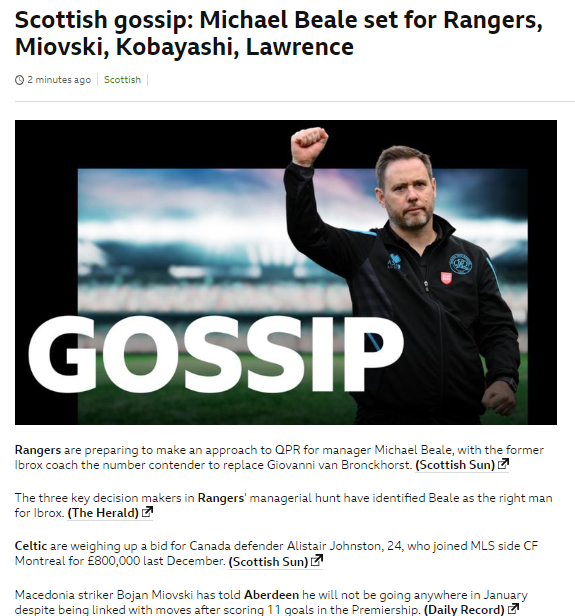 This isn't a flier, speculation or wishful thinking, the story is recorded in legal papers but clearly not the sort of material for the breakfast table of BBC Scotland readers.
If you want the goss on the next manager at Ibrox BBC Scotland have the lowdown, they'll tell you about Bojan Miovski staying at Aberdeen, an injury set-back for Tom Lawrence and even Stuart McCall's thoughts on Ryan Kent and Alfredo Morelos.
However the possible loss of £9.5m, that is 50% more than the fee Southampton paid for Joe Aribo is just too much for the state broadcaster to share.
On Sportsound on Saturday Kenny Mac will be sharing all the latest news from Ibrox with special guest Mark Hateley joining the usual crew of Kenny Miller, Neil McCann, Kevin Thomson, Richard Foster and Steven Thompson. Should be great stuff avoiding the big issues.
CLICK HERE for BBC Scotland gossip.