With the World Cup in full flow it seems that the Celtic board are allowing the various VAR controversies to be left unattended, probably for the good of Scottish football.
From the first VAR fixture at Tynecastle under the watch of Nick Walsh and Steven McLean Celtic fans have had their suspicions about the latest toy for Crawford Allan and his team at Hampden to use.
In the five matches played so far four penalties have been awarded against Celtic with just one going the way of the SPFL leaders who routinely enjoy 60-70% possession in matches home and away.
Successive home matches against Dundee United and Ross County saw the visitors awarded the softest of penalties but it was a match in-between that drew most comment including a reactionary statement from the SFA.
At Fir Park,  Motherwell TV shared a long distance image with blurred lines to justify David Dickinson's decision to disallow a Goal of the Season contender from the Celtic winger. At least was an image more than we have seen for Liel Abada's mysteriously disallowed goal at Tynecastle.
After a welter of complaints from Celtic supporters on social media David Friel of The Sun reported that the hoops hierarchy had contacted the SFA for clarification.
The former Celtic View reporter is very well connected inside his old employer, in February 2021 he discovered Neil Lennon's resignation 10 hours before the Stock Market announcement.
More than 36 hours after the match had finished the SFA admitted that there had been a problem with one camera but without publishing any new evidence they were standing by Dickinson's decision.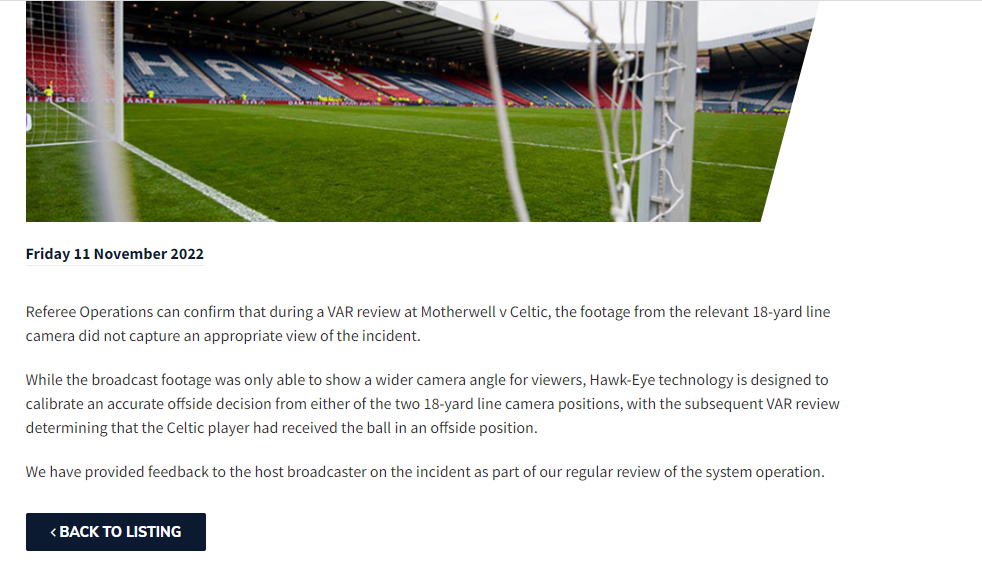 Celtic were again the victims of a huge refereeing error at home to Ross County when David Munro awarded a penalty for handball by Matt O'Riley with VAR official Euan Anderson in full agreement.
In trademark style, just like his mentor Peter Lawwell, new Celtic CEO Michael Nicholson has taken no further action, accepting the SFA statement and happy to move on for the good of Scottish football.
Without the same salary Nicholson has taken on Lawwell's approach of not demanding answers that might expose the levelling up process aimed at making the Scottish game attractive to broadcasters and sponsors.
At the 2019 Celtic AGM, Lawwell told shareholders that he had never seen the Five Way Agreement of 2012 completed and signed off by his close friend Neil Doncaster.
This year Nicholson admitted to reading the Five Way Agreement but claimed that it didn't disadvantage Celtic despite one club having a separate set of rules.
Perhaps the Celtic CEO might wish to publish the document his mentor never read or the correspondence with the SFA over his VAR concerns?
January 2 is fast approaching, at some stage Ange Postecoglou's side won't be able to overcome the mystery forces of VAR.